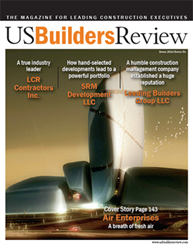 Air Enterprises is not like most companies... a breath of fresh air.
Akron, OH (PRWEB) July 15, 2014
The Spring issue of the US Builders Review has featured the Air Enterprises story to be showcased on the cover of the edition. This story is an interview that highlights the 50-year manufacturing history of the Company, its award-winning products as well as its continued focus on energy efficiency and sustainability.
"Few companies can boast about successfully engineering and manufacturing the same product for 50 years, never mind seeing expansion and growth solely due to that product. However, Air Enterprises is not like most companies." (read full article on airenterprises.com)
This article introduces and covers the breadth of solutions that Air Enterprises offers such as FactoryBilt® and SiteBilt® all-aluminum custom air handlers, Thermotech Enterprises' energy recovery Thermowheel®, KyotoCooling® free cooling for data centers and Thermodry® laundry heat recovery.
"We're excited to be featured by the US Builders Review magazine. This journal offers subscribers insight into our award-winning products which are among the most green and energy efficient air handling technologies on the market today," said Martin Ellis, President and CEO of Air Enterprises. "Air Enterprises' line of industry-leading products offer superior energy efficiency and lower operating costs for customers from data centers and automotive to hospitals and laundry—all while offering the flexibility of FactoryBilt® or SiteBilt® installation options."
For information, please contact:
Russell Elkins
Air Enterprises
Marketing Director
330-794-9770
sales(at)airenterprises(dot)com
About Air Enterprises
Air Enterprises designs, engineers and manufactures custom air handling solutions—with a focus on energy efficiency and sustainability—to meet any system configuration or space requirement. The Company has special expertise across many industries, including automotive, data centers, healthcare, industrial, pharmaceutical, and educational markets. With 50 years of application experience, Air Enterprises partners with the client to deliver the most efficient solution at the lowest total cost.
About The US Builders Review
US Builders Review is a nationally recognized trade publication read by a targeted audience of general contractors, developers and other leaders in the construction industry. Using the case study method, this journal provides some of the most detailed insights on the fastest growing companies throughout North America. Each issue delivers a unique approach of capturing the end to end business experience including supply chain successes and challenges. The US Builders Review is committed to serving this vertical by providing a professional forum for businesses leaders to exchange leading edge information in addition to cultivating new business development opportunities.
http://www.usbuildersreview.com