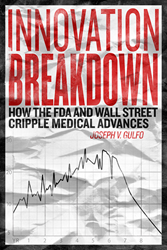 Advancing our nation's health through constant medical innovation is too important to allow the status quo to continue. - Dr. Gulfo.
New York, NY (PRWEB) July 09, 2014
Joseph V. Gulfo​, MD MBA​ has successfully brought three medical innovations through the FDA over the course of his 25 year career.
But the third time became a decade-long struggle of Herculean proportions, that included an​ unlawful ​withholding of approval by the FDA.
INNOVATION BREAKDOWN: How the FDA and Wall Street Cripple Medical Advances​ (Post Hill Press) is a business narrative detailing Dr. Gulfo's refusal to back down in a fight against the government and the financial ​c​ommunity.
"Americans who hear about the great things that are happening in science, need to see it in their health care," says Gulfo.
Dr. Gulfo took a company public; raised more than $150 million in eleven separate financings; battled with nefarious short sellers who could undermine medical innovation; and finally won over skeptical doctors put off by untruthful and misleading statements from the federal agency that was doing the opposite of its statutory mandate, to "promote health."
In INNOVATION BREAKDOWN, Dr. Gulfo shares how he led MELA Sciences through the FDA review while exposing bureaucratic malfeasance by FDA officials and filing an unprecedented Citizen Petition in the middle of an active review.
So affected by this experience fighting the FDA, Dr. Gulfo is now setting out to fix the system that is impeding the approval and availability of breakthrough medical products. In INNOVATION BREAKDOWN, he outlines an 18-point Medical Innovation Manifesto that is a prescription to do just that. Changes include fixes as simple as:
•Returning to the FDA's Basic Philosophy: The FDA has strayed from its foremost mission under the law that is to "promote the public health by promptly and efficiently reviewing clinical research and taking appropriate action on the marketing of regulated products in a timely manner." Rather, on its own, FDA leadership has put forth its number one priority to "protect the public health." "Protecting" is "fear based regulation," while "promoting" is forward-looking and seeks to advance the health of the nation. Protecting serves to preserve antiquated medical practices at the expense of potential breakthroughs that could make a real difference.
•Holding the FDA accountable when it does not meet its review deadlines. The law requires that the FDA perform reviews of new products within certain time constraints, however, it seldom does so without "gaming the system" by stopping the review clock and redefining what a "review day" is, as opposed to a calendar day. This must stop, and when the FDA does not perform as it should, there must be consequences. Right now, there are none.
ABOUT JOSEPH V. GULFO, MD, MBA
Gulfo has more than 25 years of experience in the biopharmaceutical and medical device industries. In 2012, he received the American Business Awards' Maverick of the Year Award and was an Ernst & Young Entrepreneur of the Year Finalist. Dr. Gulfo teaches graduate Cancer Biology and business classes in entrepreneurship, and maintains an educational cancer biology blog.
He is currently CEO of Breakthrough Medical Innovations, a team of industry experts specializing in Biopharma/Medtech product and commercial development, sales and marketing, regulatory (FDA and CE), quality, and policy advocacy. Prior to this, he served as President & CEO at MELA Sciences from 2004 - June 2013, and was Chairman of the Board from November 2011 through June 2013.