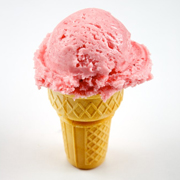 "July is a big month for ice cream producers and accounts for a significant portion of annual revenue for these companies," says Scott Proctor, VP of Sales at Lightning Labels.
Denver, CO (PRWEB) July 08, 2014
July marks National Ice Cream Month, so it's important that restaurants and other businesses involved with the frozen novelty industry take a hard look at their ice cream labels. High-grade, professional labels can help producers and restaurants grab the attention of potential buyers, which is critical in a month when sales are projected to be higher than normal due to the national recognition.
"July is a big month for ice cream producers and accounts for a significant portion of annual revenue for these companies," says Scott Proctor, VP of Sales at Lightning Labels. "Whether producers are trying to promote a flavor of the month or simply creating their standard label, they should work with custom label printing companies such as Lightning Labels to ensure they get the job done right and in time for summer."
Custom Labels for All Events
If ice cream producers are rolling out a special flavor, custom labels can go a long way to help with this process. By working with a label printing company, producers can create a label for any flavor, even ones only available for a certain amount of time.
For example, if ice cream makers wanted a special flavor to celebrate National Ice Cream Month, they could use Lightning Labels to produce a custom label and print it immediately without jeopardizing the quality of the label, just in time to sell to customers.
Temperature Resistant Labels a Must for Ice Cream
Extreme storage conditions can be harsh for some labels, but if ice cream producers leverage Lightning Labels' temperature resistant labels, they can rest assured knowing the labels are designed to withstand even the coldest freezers.
Temperature resistant labels feature a permanent adhesive that is guaranteed to withstand minus 20 degrees and can be applied in cold temperatures. This is crucial for sellers as it ensures they don't serve up the wrong flavor to their customers by accident because the label fell off or sustained damaged. Of course, it's also important for take home customers as well - they don't want to be left guessing while they are trying to fish cartons out of dark freezers.
According to the International Dairy Foods Association, the ice cream industry generates $10 billion annually. If producers want to capture some of that revenue, they'll need to have eye-catching labels that can be produced quickly while also withstanding cold temperatures. Lightning Labels can provide those projects with a wide array of different paper liners and adhesives designed for ice cream cartons.
About Lightning Labels:
Lightning Labels uses state-of-the-art printing technology to provide affordable, full-color custom labels and custom stickers of all shapes and sizes. From small orders for individuals, to the bulk needs of big businesses, Lightning Labels is equipped to handle and fulfill custom label and sticker projects of all types. Best of all, like the name implies, Lightning Labels provides a quick turnaround to every customers' labeling needs. Uses for Lightning Labels' custom product labels and custom stickers include food packaging and organic food labels, wine and beverage labels, bath and body labels, and nutraceutical products, such as vitamins, essentials oils, and herbal remedies, as well as event stickers, adhesive window stickers and more. Lightning Labels strongly supports the development of environmentally friendly printing materials and carries EarthFirst PLA, a new kind of green label material made from corn instead of petroleum. While operating as a high-tech printer, Lighting Labels prides itself on its personalized customer service. Lightning Labels provides one stop shopping for all of your custom label needs. For more information and to place orders online, visit LightningLabels.com. For the latest in packaging news and labeling promotional offers, find Lightning Labels on Twitter (@LightningLabels), Facebook, Pinterest, Google and LinkedIn.