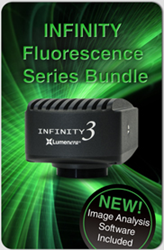 Ottawa, ON (PRWEB) July 08, 2014
Lumenera Corporation, a leading manufacturer and developer of high-performance digital cameras and custom imaging solutions for scientific, industrial and surveillance markets, released its new INFINITY Fluorescence Series Bundle; a fluorescence microscopy imaging solution consisting of high-end scientific cameras, feature-rich software packages, and a 5-year warranty.
The INFINITY Fluorescence Series Bundle includes an INFINITY3 series camera, with feature-rich software packages to provide customers with a complete imaging solution for fluorescence microscopy. Each bundle comes with INFINITY CAPTURE, an intuitive image capture program, and INFINITY ANALYZE software for advanced camera control, image processing, measurement, and annotation. Customers that require a more comprehensive post-image processing, enhancement, and analysis software with extensive measurement and customization features have access to a free 9-month trial version of Media Cybernetics® industry leading Image-Pro Premier. Completing the INFINITY Fluorescence Series bundle is the INFINITY Advantage Pack (LuIAP2), which provides customers with an extra INFINITY advanced features software module, and the peace of mind that comes with one advanced loaner hardware replacement, and extension of the warranty on the camera from 2 years to 5 years.
Lumenera's INFINITY Fluorescence Series cameras have a new sleek black enclosure, and feature Sony CCD sensors to offer high dynamic range, high sensitivity, and optional thermoelectric cooling, resulting in excellent quality images and fast preview speeds. Customers can select the INFINITY3 series camera model that best meets their application needs, in color or monochrome. The cameras included in the series are the INFINITY3-1URF, INFINITY3-3URF, and INFINITY3-1PF.
"Lumenera's INFINITY3 series cameras have proven to excel in fluorescence imaging – even under challenging conditions," said Eric Ramsden, Product Manager at Lumenera Corporation. "We are excited to provide our customers with a high-value, quality solution for a wide range of fluorescence applications, a field that has historically been dominated by much more expensive cooled cameras. Bundling the new black enclosure INFINITY3 series cameras with feature-rich software packages is a way to offer more value to our customers while maintaining world-class quality and support."
As industry leaders, Lumenera and Media Cybernetics® have successfully partnered before to offer user-friendly integrated software solutions. "Lumenera's Fluorescence Series cameras are fully integrated into Image-Pro Premier software with a custom Capture Interface, which gives fluorescence microscopy customers complete access to maximum frame rates, live image adjustments, and all the benefits available from INFINITY cameras. This integrated solution enables users to easily access Image-Pro's sophisticated image processing, measuring, counting, and robust reporting tools to share image results," said Nick Beavers, Global Sales and Marketing Manager at Media Cybernetics.
The INFINITY Fluorescence Bundle is now shipping. For additional information on this product or any of Lumenera's INFINITY microscopy cameras, visit http://www.lumenera.com/products/microscopy-cameras/index.php.
About Lumenera:
Lumenera Corporation, headquartered in Ottawa, Canada, is a leading developer and manufacturer of high performance digital cameras and custom imaging solutions. Lumenera cameras are used worldwide in a diverse range of industrial, scientific, security, and astronomy applications.
Lumenera solutions provide unique combinations of speed, resolution, and sensitivity in order to satisfy the most demanding digital imaging requirements. Lumenera customers achieve the benefit of superior price to performance ratios and faster time to market with the company's commitment to high quality, cost effective product solutions. For further information about Lumenera, please visit http://www.lumenera.com or call 613-736-4077. To receive Lumenera press releases as they are issued, contact us at marketing(at)lumenera(dot)com.
About Media Cybernetics:
Founded in 1981, Media Cybernetics develops image informatics solutions to automate research, development, and quality control processes in life science and industry. The company's products simplify and enhance image-based data collection and analysis to increase the accuracy and productivity of its customers. For more information about Media Cybernetics, visit http://www.mediacy.com.
Media Contact
Lumenera Corporation
Skylar Davies, Marketing Communications Specialist
(t) 613-736-4077 x 120
Media Cybernetics
Stephen Hart, Marketing and Communications Manager (t) 1-301-495-3305 x 216