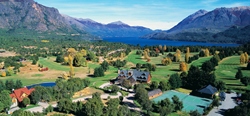 The only thing our members have to worry about is when they are returning for another incredible vacation in a truly amazing country.
Buenos Aires, Argentina (PRWEB) July 08, 2014
Club residences are available in three locations, starting with the luxurious Palermo Tower in Palermo Hollywood, the trendiest neighborhood in South America's most vibrant city. The Club's elegant suites are superbly complemented by a rooftop pool affording dramatic skyline views, fitness room and outdoor dining patio. Bordering Palermo Soho, the Tower is surrounded by world-class shopping, cultural attractions, a vast number of gastronomic options, and exciting nightlife. Buenos Aires is often referred to as "the Paris of South America" and Palermo Tower is at the epicenter of activity. Adding to guest convenience, the Palermo subway station is only one block away and J. Newberry International Airport is only a 15-minute drive.
Bariloche – The newly opened Arelauquen Lodge is located in San Carlos de Bariloche, a year-round recreation mecca. Perfectly situated on the grounds of the prestigious Arelauquen Golf & Country Club amid spectacular Patagonian peaks, Arelauquen Lodge overlooks postcard-perfect Lake Gutierrez. A meticulous renovation transformed the lodge into a five-star property that houses a world-class restaurant. Just outside its doors lie the best golf course and polo club in the region, South America's largest and most famous ski resort, world-class fishing, biking, hiking, hunting and many other diversions. Arelauquen Lodge is now welcoming RCA members, just in time for ski season!
Mendoza – Construction of the new Auberge du Vin Hotel, which will house RCA's wine country accommodations, is set to be complete August 2014. Ensconced within a private vineyard, the dramatic Auberge du Vin sits at the foot of the Andes, in breathtaking Uco Valley, outside the city of Mendoza and behind the gates of Tupungato Winelands. As the world's first wine country club, Tupungato Winelands blends private vineyards, polo, golf, and spa treatments to create an unforgettable experience for RCA members. Internationally praised for its Malbec varietal, weather and full menu of activities, Uco Valley is acknowledged by sophisticated travelers as one of the planet's premier destinations. The Malbec and Pinot Noir grapes harvested in the Auberge du Vin vineyard will be used to create estate wines, crafted by renowned oenologist Michel Rolland and served to members in the heart of Argentina's internationally renowned wine country. Auberge du Vin will begin hosting RCA members in August 2014.
Managed By P Hotels
All RCA suites and services are managed by P Hotels, the highly acclaimed boutique hotel operator owned by U.S-based Grupo EMR. P Hotels are noted for their superb locations and intimate ambiance, and the friendly, highly personalized service provided by the knowledgeable staff members.
"The only thing our members have to worry about is when they are returning for another incredible vacation in a truly amazing country," said Grupo EMR CEO Edward Rubio.
RCA membership includes ownership of the beautiful Club suites along with golf, wine club and polo memberships. A limited number of Founders Memberships are now available at $49,500 with a financing option, as well as the first year's fees waived and 6 additional Elite Alliance credits.
For details please contact Rachel Mader (435) 513-2164.