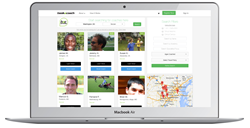 "The sports industry has a vast community of elite and experienced professionals," said Todd. "I'm excited to join and help shape this network for bookacoach, with the focus of delivering value to athletes, parents and coaches."
Indianapolis, Indiana (PRWEB) July 09, 2014
bookacoach, an Elevate Ventures portfolio company that provides an online marketplace for sports training, today announced the appointment of Todd Sermersheim, Vice President of Sales for the Football Division of Relativity Sports, as recruitment lead for newly formed Sports Advisory Board.
The Sports Advisory Board will engage professional athletes and potential corporate sports partners for strategic guidance in areas from athlete development to sports coaching safety, while also counseling the bookacoach Board of Directors and management team on matters relating to the sports development market.
Todd Sermersheim, an Indianapolis native, will begin advising on sports related matters and lead the recruitment effort for the Advisory Board.
Todd currently serves as Relativity Sports Football's Vice President of Sales, leading all football client endorsement sales efforts. Todd brings a depth of sports marketing and relationship building experience to the Sports Advisory Board. Prior to joining the Relativity Sports team, Todd oversaw the WWE sponsorship sales, served as head of business development for SME Branding and the National Lacrosse League, and started his sports business career as a sports marketing manager at Reebok.
"The sports industry has a vast community of elite and experienced professionals," said Todd. "I'm excited to join and help shape this network for bookacoach, with the focus of delivering value to athletes, parents and coaches."
"The knowledge and expertise of the Sports Advisory Board will give our team valuable insight into the sports coaching industry," says Kevin MacCauley, Founder and CEO of bookacoach. "The addition of Todd's experience is the beginning of a significant opportunity for our team, as we seek advisement on several key developments in our pursuit of long term market share."
The recruitment process for the newly formed advisory board has already begun, and bookacoach expects to announce additional appointments later this year.
About bookacoach:
bookacoach, the destination for sports lessons, offers online tools that simplifies the booking, scheduling, and feedback aspects of sports instruction. All coaches must undergo the bookacoach background check, repeated annually. The process was developed with the guidance and support of local law enforcement and consists of a national, state and county level background check.
Since its formation in 2011, bookacoach has grown to become the nation's largest online sports lesson marketplace of county level background checked coaches.
To learn more about bookacoach, visit http://www.bookacoach.com.
About Relativity:
Relativity is a next-generation media company engaged in multiple aspects of entertainment, including film production; financing and distribution; television; sports management; music publishing; and digital media.
Relativity Sports is the industry's fastest growing sports agency, providing more than 300 NBA, NFL and MLB athletes with services ranging from contract negotiation to custom film and television content production. Relativity Television is one of the country's largest suppliers of unscripted television and has recently expanded to produce scripted series.
For more information, please visit http://www.relativitysports.com.