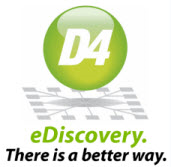 Our clients rely on us to provide rapid, comprehensive, and clear visibility into very large and continuously expanding volumes of unstructured data, and we have selected Brainspace to help us bring the best possible services to our clients
DALLAS, TX AND ROCHESTER, NY (PRWEB) July 08, 2014
Brainspace Corporation, formerly PureDiscovery Corporation, announced a new strategic partnership with D4. As part of an extension of their eDiscovery solutions, D4 will integrate Brainspace Discovery 4 to offer industry-leading visual analytics capabilities to their customers.
"As a national provider of electronic discovery, computer forensics, deposition services, consulting and overall litigation support, D4 is committed to implementing the best technology to deliver the most effective and highest quality results for our clients," said Peter Coons, SVP of Consulting Services at D4. "We are extremely happy to be introducing the newest and most advanced service offerings for Visual Analytics based on the Brainspace Discovery 4 platform."
John Holland, CEO of D4 stated, "Our clients rely on us to provide rapid, comprehensive, and clear visibility into very large and continuously expanding volumes of unstructured data, and we have selected Brainspace Discovery 4 Visual Analytics software to help us bring the best possible services to our clients. We are looking forward to offering new Early Case Assessment, Deposition Analytics, and Concept Visualization services based on Brainspace Discovery 4."
"Brainspace is delighted to have been selected by D4 as a key technology platform for their advanced discovery services," commented Dave Copps, CEO of Brainspace. "D4's track record of delivering both the highest quality and leading-edge services to clients throughout the US makes D4 an ideal partner for Brainspace. We are thrilled to expand the reach of our software in concert with the very strong sales, delivery, and support team D4 has built and continues to grow."
About D4, LLC
D4 is a national provider of electronic discovery, computer forensics, litigation support and deposition services to law firms and corporations. D4 has been instrumental in helping customers realize up to a 70 percent cost reduction over previous eDiscovery solutions. Founded in 1997 in Upstate New York, D4 has grown to a national presence. With over 150 employees, D4 has offices in Buffalo, Chicago, Detroit, Grand Rapids, Lincoln, New York City, Omaha, Orlando, Phoenix, Rochester, San Diego and Tampa. D4's state-of-the-art Tier 3 data center and operations in Rochester are complemented by electronic discovery, litigation support and paper document services throughout their offices across the country.
D4 has been recognized by Inc. Magazine as one of the fastest-growing private companies in the US and is an INC 500/5000 honoree. Visit http://www.d4discovery.com for more information.
About Brainspace
Brainspace Corporation makes software that connects people and knowledge through a semantic intelligence and visual analytics platform. Brainspace processes information like the human brain—evaluating content, meaning and connectedness and determining not just relevance, but value. Brainspace's suite of solutions transform the way we find and connect to people, data and knowledge. For more information and to sign up to Brainspace's new social curation app, visit http://www.brainspace.com.
Media Contacts
Martha MacPherson, D4
+1-585-512-3758
mmacpherson(at)d4discovery(dot)com
James Bohan-Pitt, Brainspace Corporation
+1-214-785-2400
james(at)brainspace(dot)com