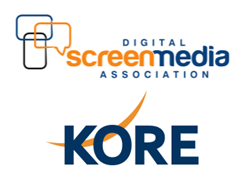 "For B2B digital signage network providers, this is a critical webinar to learn how important wireless connectivity and management is to an effective digital signage deployment."
Louisville, KY (PRWEB) July 08, 2014
The Digital Screenmedia Association and KORE will host the Webinar "Digital Signage Goes Wireless" on July 15, 2014 at 2:00 ET to address the growing and critical trend of managing digital signage networks through wireless connectivity.
In today's 'must have it now' customer experience world, the need for customizable digital signage solutions is essential. Altering messaging in real-time, adding advertising, acting on customer input, deploying signage globally, and remotely monitoring your equipment requires forethought, planning and reliable connectivity. The webinar will focus on the following topics:

Major trends in digital signage and the importance of deploying the right solution
Delivering a unique and enhanced customer experience
Understanding how wireless connectivity can enable and enhance digital signage deployments
Attendees will gain insight into the current and future landscape of digital signage management and will understand the importance of thinking globally with wireless connectivity to deliver the optimal customer experience.
The Webinar will be presented by Bert Gillespie, Director of Channels with KORE, Pat Verrington, Vice President, Emerging Markets and Services with KORE, and Bruno Pupo, Vice President, Global Sales & Marketing for Vertigo Displays.
Attendees can register at the Digital Screenmedia Association's website.
About KORE
KORE is the world's largest wireless network provider specializing exclusively on the rapidly expanding global machine-to-machine (M2M) communications market. Providing unified control and management for cellular network service delivery in more than 180 countries worldwide, KORE empowers its application, hardware and wireless operator partners to efficiently deliver M2M solutions across the globe. M2M applications in industries as diverse as healthcare, utilities, enterprise IT, transaction processing and fleet management rely on the KORE network to deliver operational efficiencies and cost-savings. KORE offers a range of technologies — including LTE, GSM, HSPA, CDMA and satellite services — that ensure the greatest possible reliability and coverage. For more information, please visit http://www.koretelematics.com.
About the Digital Screenmedia Association
The DSA is an independent, non-profit association, whose mission is to advance the growth and excellence of the global digital signage, interactive kiosk, and mobile community through advocacy, education and networking. Members include users of digital screenmedia in all vertical markets including retail, hospitality, food service, and healthcare, as well as manufacturers, resellers, and distributors of hardware and software, network operators, integrators, advertising agencies, consultants, analysts, publishers, trade show organizers, and service companies.