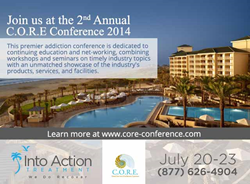 "We Do Recover."
West Boynton Beach, Florida (PRWEB) July 08, 2014
Into Action Drug and Alcohol Addiction Treatment Center will join other professional exhibitors at the Clinical Overview of the Recovery Experience (C.O.R.E.) Conference July 20-23 in Amelia Island, Florida, where national and international addiction recovery experts will gather for workshops and seminars to share ways of improving abstinence-based practices in treatment. At the conference, which is expected to attract hundreds of service providers from the behavioral health care and addiction rehabilitation specialists, Into Action representatives will be able to share information about its treatment program.
The second annual C.O.R.E. conference is sponsored by C4 Recovery Solutions, a nonprofit organization committed to providing networking and educational opportunities to all stakeholders in addiction treatment. The C.O.R.E. conference highlights the importance of abstinence-based recovery and the proven success of the 12-Step principles first laid out by original members of Alcoholics Anonymous. This approach to recovery is the core of Into Action Treatment Center's holistic philosophy of treating the physical, mental and emotional aspects of drug and alcohol addiction.
Andrey Rossin, founder and CEO of Into Action, is a firm believer in the 12-Step process of addressing the underlying issues of addiction. He and his experienced staff lead clients along a path of recovery by providing daily study sessions of the Big Book of Alcoholics Anonymous, which gives detailed instructions on the spiritual principles of sobriety. Into Action's program also helps to provide sponsors who will continue to work with clients as part of relapse prevention. By participating in the C.O.R.E. conference as an exhibitor, the Into Action team will have the opportunity to share with others how the 12-Step program, combined with other therapies, leads to successful recovery from addiction. The conference draws representatives from all aspects of the addiction recovery industry, including doctors, nurses, social workers, educators, and therapists, which will provide a wide audience.
In addition to the 12-Step foundation, Into Action offers a variety of other therapies in order to tailor each client's recovery plan to the client's individual needs. Into Action is one of the only rehabilitation facilities to offer harmonial therapy and vibroacoustic therapy. Harmonial therapy uses musical sounds, colors and scents to stimulate the senses and reduce stress. Vibroacoustic therapy combines music with physical vibrations, which can relax muscles and stimulate blood circulation. These innovative techniques, as well as yoga, art therapy, acupuncture and others, treat the whole person.
About the Company
At Into Action, clients, and often their families, work together to devise the best treatment plan possible. Working with the professional, experienced and highly trained staff, clients gather specific information about their substance use, physical and mental symptoms, and possible other diagnoses, such as depressive disorder, anxiety disorder and bipolar disorder. Into Action uses the original system of recovery outlined in the Big Book of Alcoholics Anonymous, which shows how the first 100 alcoholics in that program achieved sobriety. The staff continues to support clients with aftercare and invites graduates of the program to return to help others. The concept of service to others helps to prevent relapse. The motto of Into Action is, "We Do Recover."
To find our more about our drug and alcohol addiction treatment program, please visit http://intoactiontreatment.com/contact-us/