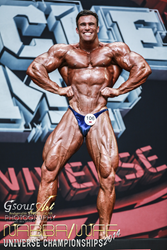 New York, N.Y. (PRWEB) July 08, 2014
The World Fitness Federation (WFF) Universe Championships call on elite bodybuilding athletes from around the world to take the stage and compete for the ultimate title in their respective categories. Team Cellucor Athlete, Calum von Moger, took home the coveted Mr. Universe title in the Extreme Body Class. The competition was a significant milestone for the Australian bodybuilding powerhouse because it qualifies Calum as a WFF Pro.
Athletes who compete in the WFF Universe Championships go through three rounds of rigorous judging. The WFF panel evaluates competitors on several criteria: presentation/individual routine, physique symmetry, and grade of muscularity. During round one competitors show off their figures, personality and presence; in round two they demonstrate their body shape and symmetry; and in round three competitors exhibit muscle size and definition.
Calum shattered the competition, and while much of the fitness industry has dubbed Calum "Arnold 2.0," after industry great, Arnold Schwarzenegger, his classic physique, personality, drive and now, Mr. Universe title all make Calum a star in his own right.
"The Cellucor team is so proud of Calum's Mr. Universe win. Calum is undoubtedly one of the brightest stars this industry has seen in a long time. His unrivaled charisma, humility, and most importantly, his commitment to himself and his signature style, make him a force to be reckoned with. I'm certain this is just the beginning for him," remarked Cellucor Marketing VP, Daniel Lourenco.
Though Calum is only 24 years old, he is no rookie in the fitness industry. Calum von Moger began his fitness career at a young age as a certified personal trainer. His love for bodybuilding inspired him to pursue the sport competitively.
In 2010, he competed in the NB Teenage 19 & Under Victorian Bodybuilding Championships, where he won 1st place. This significant win only deepened his passion, and he continued to compete, winning several more titles including, 1st place in the NABBA Junior International Championships and 1st place WFF Junior Mr. Universe - Superbody (Baden, Austria) in 2011. Calum rose even higher in 2013, when he took 1st place in the NABBA Class 1 International Championships and 3rd place in the NABBA Class 1 Southern Hemisphere Championship.
For more information on Calum von Moger, visit his Facebook page.
Cellucor is an award-winning, safe and effective supplement brand known for its premier weight loss and sports nutrition product offerings. Cellucor products can be found at GNC, Bodybuilding.com, Vitamin Shoppe and select retailers internationally. Visit Cellucor.com or connect with the company on Facebook or Twitter.