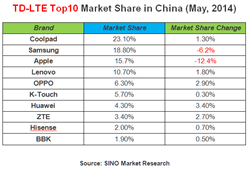 San Francisco, CA (PRWEB) July 08, 2014
According to Sino's newest May market share report, Coolpad has ranked #1 on TD-LTE smartphones shipments in China, with 23.1% market share. Samsung and Apple fell to second and third place, with 18.8% and 15.7% respectively. Coolpad's market share is almost a full 5 percentage points higher than its next largest competitor within China.
Since the Chinese government released 4G licenses to the 3 main carriers last December, Coolpad has been the leading star in 4G competition. Just this year alone, Coolpad has partnered with carriers to launch several 4G products and has achieved very promising results in the first half of the year. Early strategic planning on 4G product roadmaps and rapid production line focus shift has aided in Coolpad's ability to gear up for this smartphone battle re-shuffle in the Chinese market.
In the first half of 2014, Coolpad has brought over 15 4G products to the Chinese market. Not losing any momentum, consumers can expect another 15 or more new devices to debut in the second half of the year. Among the existing 4G models, 8720L caught the most attention. Its total volume sales ranks No. 2 in the 4G category, only behind Apple's iPhone 5S. This blazing fast launch speed grabbed a big chunk of the early 4G adopters as well as showcasing Coolpad's big ambition of "leading in 4G era".
Last month, with its ten millionth 4G smartphone completed on the production line, Coolpad marked a milestone in becoming the first Chinese company to exceed 10 million 4G devices shipped. Overall, Coolpad sits at No. 2 in the Chinese smartphone battle, but unknowing to their competitors, they are No. 1 in TD-LTE smartphone sales.
About Coolpad
Coolpad Americas is a subsidiary of Yulong Telecommunications, which has been innovating in the mobile device market since 1993. Yulong Telecommunications launches over 50 smartphones a year, with smartphone revenues exceeding $3.5 billion in 2013, and was recently ranked by TrendForce as the 7 largest global Smartphone manufacturer. Headquartered in San Bruno, CA, Coolpad Americas hopes to bring a fresh perspective to the American smartphone industry by following the same principles that have guided Yulong over the last 20 years. For more information, go to http://www.coolpadamericas.com.