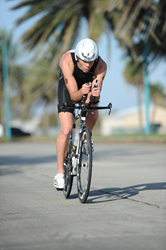 Eustis, FL (PRWEB) July 07, 2014
Kids just want to be kids. For children living with epilepsy and seizure disorders, even a quick swim in the pool can be a real challenge.
On Thursday, July 10, internationally known professional triathlete Michael Poole will visit 150 children with epilepsy who are attending Camp Boggy Creek's epilepsy summer camp week. Poole knows personally the challenges of living with epilepsy after being diagnosed six years ago. In 2009, his first seizure held him back from Junior World Championships. He is currently ranked second for the Lifetime Tri-Series, the premier pro-triathlon racing circuit in the US.
Poole plans to spend the afternoon with campers, sharing his success in his sport and life to inspire the children. "I hope to inspire kids and, by using my story, help them to realize that an illness or condition doesn't mean they can't do something. It just means they need to make lifestyle adjustments and work with doctors to find a different pathway to their dream," said Poole. "I'm very excited to get the chance to share my love for swimming with the kids and show them some of what is possible, even while living with epilepsy."
"We are thrilled that Michael is taking time out of his busy schedule to spend with our campers and motivate them to dream big," said June Clark, Camp Boggy Creek President & CEO.
Poole is a founding member of the Epilepsy Foundation's "Athletes vs. Epilepsy," a nationwide program for athletes, coaches, volunteers, and fans to raise awareness and money to support the Epilepsy Foundation's mission to prevent, control, and cure epilepsy.
The Epilepsy Foundation of Florida provides the camp experience free of charge to Florida youth with seizure disorders. It also offers basketball camp, art and exercise programs, counseling, medical treatment and other services for children and families living with seizures.
About Camp Boggy Creek:
Founded in 1996, Camp Boggy Creek is a year-round medical camp for children with serious illnesses. Co-founded by actor/philanthropist Paul Newman and General H. Norman Schwarzkopf, the camp offers week-long summer sessions and family retreat weekends at no charge to the children or families. Located in Eustis, Florida, the 232-acre nonprofit serves children ages 7–16 that have been diagnosed with chronic or life-threatening conditions. The camp is entirely funded by generous donations from individuals, corporations, foundations, and healthcare partners. Camp Boggy Creek is a proud member of SeriousFun Children's Network. Learn more by visiting campboggycreek.org.
About the Epilepsy Foundation of Florida:
The Epilepsy Foundation, a national non-profit, has led the fight against seizures since 1968. The Foundation is an unwavering ally for individuals and families impacted by epilepsy and seizures. The mission of the Epilepsy Foundation is to stop seizures and sudden unexpected death in epilepsy (SUDEP), find a cure, and overcome the challenges created by epilepsy through efforts including education, advocacy, and research to accelerate ideas into therapies. The Foundation works to ensure that people with seizures have the opportunity to live their lives to their fullest potential. The Epilepsy Foundation of Florida has been working as a national affiliate for the last 43 years with Floridians living with epilepsy. Find out more at epilepsyfla.org/.