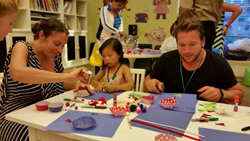 Las Vegas, NV (PRWEB) July 10, 2014
Dr. Karl "Fritz" Disque, executive director of the Disque Foundation, will be at Ronald McDonald House (RMH) on July 3, near Lurie Children's Hospital, in an effort to bring joyfulness and entertainment to the children in celebration of Independence Day this Friday. A group of staff, volunteers and the families staying there, along with the children, will make crafts and artwork to celebrate America's freedom and independence. Disque regularly works with RMH within his community, inspiring all ages to live wholesome and stimulated lives centered on health and happiness.
Ronald McDonald House is determined to enhance the health, well-being, and education of children. Dr. Disque works closely with the American Heart Association to inspire healthier living and fight cardiovascular disease and stroke. Ronald McDonald House cares for families of children with complex medical needs, by providing comfort, compassion, and a sense of community. Dr. Disque and the Disque Foundation work continuously with the vision, mission, and values of RMH to support and encourage others to save lives and stay inspired with the Save a Life Initiative.
About The Disque Foundation
The Disque Foundation is a nonprofit organization with the mission of advancing health care education to the underserved both domestic and abroad. The Foundation works closely with National Health Care Provider Solutions (NHCPS) to increase their efforts and provide education to those with the greatest need. Members of the Foundation have previously contributed to efforts in areas such as Haiti, Ethiopia, Costa Rica, Panama, Malaysia, and the United States.