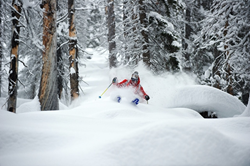 Banff, Alberta (PRWEB) July 08, 2014
Guests of CMH Heli-Skiing's Galena Lodge will now enjoy less time on the road as they travel to the heart of Canada's Heli-Skiing haven.
New to the CMH 2014/15 season, skiers and boarders headed to CMH Galena will fly into Kelowna, B.C. from their destination of origin instead of Calgary, Alberta. Upon arrival in Kelowna, guests will be accommodated at the new Four Points by Sheraton Kelowna Airport hotel and transferred to Galena the following morning, reducing the previous road transfer time by over a third.
"CMH's founder, Hans Gmoser, always famously proclaimed that 'beautiful places are difficult to get to' and we are certainly privileged to have exclusive access to some remote and pristine areas," noted Rob Rohn, GM & Director of Mountain Operations at CMH. "But we are also dedicated to finding ways to bring our guests to these powder meccas as efficiently as possible; using Kelowna as a gateway to Galena allows us to do just that."
As an added bonus, guests who book their Heli-Ski trip to Galena before July 31, 2014 will receive 50 percent off their accommodation at the Four Points by Sheraton in Kelowna.
The CMH Galena tenure is situated 100 kilometres southeast of Revelstoke, B.C. in the heart of the Selkirk sub range of the Columbia Mountains. Famous for its abundance of deep, dry snow, it is a haven for strong skiers and snowboarders who enjoy steep tree skiing and playful terrain.
In addition to Galena Lodge, CMH Heli-Skiing operates ten other properties across more than three million acres of skiable terrain in the Columbia Mountains. CMH welcomes skiers and snowboarders from December to April and will celebrate its 50th Anniversary in 2015. Reservations can be made by calling 1-800-661-0252 or by contacting the global sales representative or agen t in your region.
ABOUT CMH HELI-SKIING & SUMMER ADVENTURES:
Offering heli-adventures since 1965, CMH Heli-Skiing & Summer Adventures is the world's first and largest Heli-Skiing and Heli-Hiking operator. From their head office in Banff, Alberta, CMH operates exceptional mountain experiences based from 11 lodges located in the Bugaboo, Purcell, Selkirk, Monashee and Cariboo ranges of British Columbia, Canada. Heli-skiing takes place each year from December through April, and CMH Summer Adventures take place from July to mid-September.