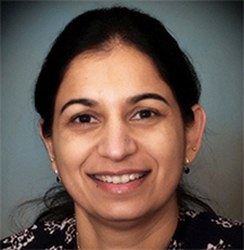 The principles of Ayurveda greatly enhance a physician's diagnostic skills and clarity. -- Rosy Mann, BAMS
Averill Park, NY (PRWEB) July 08, 2014
Ayurvedic physician Rosy Mann, BAMS will join the faculty of The American Meditation Institute (AMI) for a 30 credit hour mind/body medicine CME conference on Ayurveda, meditation and yoga for physicians and other health care professionals, November 5-9, 2014 at the Cranwell Resort and Spa in Lenox, Massachusetts. Entitled "American Meditation: The Heart and Science of Yoga," this comprehensive physician training is accredited through the Albany Medical College Office of Continuing Medical Education.
Now in its sixth year of providing physicians continuing medical education credits, the American Meditation Institute's comprehensive training in holistic mind/body medicine conference will present an in-depth study of the historical, philosophical and scientific nature of Yoga Science as taught in both the East and West. Practical yogic skills will be taught to physicians, nurses and other healthcare professionals that can reduce their own stress and burnout while positively enhancing their ability to teach patients health-affirming lifestyle choices.
Presenter Rosy Mann, BAMS (Bachelor of Ayurvedic Medicine and Surgery) and faculty member of the Kripalu School of Ayurveda, brings more than 15 years of experience as an Ayurvedic doctor specializing in women's health. Trained under the guidance of renowned Ayurvedic physicians in India, she received a bachelor of Ayurvedic medicine and surgery degree with distinction in 1994 from Guru Nanak Dev University in Amritsar, India. In addition to women's health care, her areas of expertise include panchakarma (detoxifying programs and procedures), Ayurvedic nutrition and cooking, pulse analysis, and Ayurvedic herbology.
Through her two CME conference lectures Dr. Mann will explain how a basic understanding and practical application of Ayurveda can be used as a complementary diagnostic tool. According to Dr. Mann, "Modern Western diagnostic methods can be enhanced by incorporating easy to recognize Ayurvedic principles that reveal important physical, physiological, psychic and behavioral aspects of patients and the disease process."
As part of AMI's "Yoga of Medicine" program, this 30 CME conference is dedicated to providing quality, comprehensive and evidence-based education to physicians and other health care providers. AMI's CME conference will offer a broad curriculum of Yoga Science as mind/body medicine to enhance the health and wellbeing of both healthcare providers and their patients. Additional topics will include meditation, diaphragmatic breathing, mantra science, Yogic and chakra psychology, mind function optimization, nutrition, physician and nurse burnout, functional medicine, epigenomics, easy-gentle yoga and lymph system detoxification.
The devotion, enthusiasm, and teaching methodology of the entire AMI faculty will combine to create a dynamic and interactive course for their students. Each faculty member is committed to the advancement and training of Yoga Science as holistic mind/body medicine. In addition to Rosy Mann, BAMS presenters will include faculty director Leonard Perlmutter, AMI founder, meditational therapist and award-winning author; Mark Pettus MD, board-certified internist and nephrologist; Beth Netter MD, holistic physician and accupuncurist; Susan Lord, MD, holistic physician and Associate Director for Professional Training at the Center for Mind/Body Medicine in Washington, DC; Kathie Swift, MS RDN LDN, leading educator and practitioner in the field of integrative nutrition and author of "The Inside Tract: Your Good Gut Guide to Great Digestive Health;" and world-renowned artist Jenness Cortez Perlmutter, co-founder and faculty member of The American Meditation Institute.
According to faculty director, Leonard Perlmutter, "We are grateful to the Albany Medical College for their continued dedication to the teaching of mind/body medicine for physicians. "The content of this program is designed to provide healthcare professionals and their patients a 5,000 year old, time-tested mechanism for dealing with the debilitating effects of stress and burnout." According to recent graduate, Joel M. Kremer, MD, who is Board Certified in Internal Medicine and Rheumatology in Albany, New York, "This teaching has been an enormous benefit in my personal and professional life. I have less stress, more focus, and am able to serve my patients with greater clarity. It becomes surprisingly easy now to recognize the many clinical situations in which patients with somatic manifestations of 'dis-ease' could greatly benefit from Yoga Science."
-30-
About the American Meditation Institute
The American Meditation Institute is a 501(c)3 non-profit educational organization devoted to the teaching and practice of Yoga Science, meditation and its allied disciplines as mind/body medicine. In its holistic approach to wellness, AMI combines the healing arts of the East with the practicality of modern Western science. The American Meditation Institute offers a wide variety of classes, retreats, and teacher training programs. AMI also publishes "Transformation," a bi-monthly journal of meditation as holistic mind/body medicine. Call 800.234.5115 for a mail or email subscription.
Media Contact:
Mary Helen Holloway
60 Garner Road, Averill Park, NY 12018
Tel: 800-234-5115
Fax: 518-674-8714