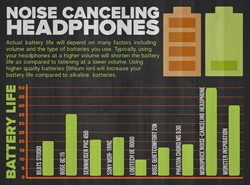 Sonic Sense has developed the technology to the point that it is possible to choose the best headphones for your tastes by directly comparing many more pairs of headphones than would be available at a single retail store.
Denver, Co (PRWEB) July 08, 2014
Denver, Colorado-based pro audio equipment dealer, Sonic Sense, has just released a new online resource for shoppers looking for noise-canceling headphones. Available at the Sonic Sense Resource Center, the resource page features two educational videos, a detailed buyer's guide, infographics, and a new platform that allows users (for the first time) to compare the audio performance of different headphones over the internet.
The online auditioning system, recently featured in an article by PC Magazine, also allows users to hear how effectively different pairs of headphones filter unwanted external noise.
"This is a huge leap forward towards empowering headphone shoppers to make educated purchasing decisions from anywhere in the world," states Sonic Sense owner, Marc Nutter.
The audio engineers at Sonic Sense have spent hundreds of hours developing the process and recording scores of headphones from top manufacturers. The recording procedure is conducted with laboratory-level standards to ensure that each recording accurately represents the characteristics of each particular headphone, and that all get an equal opportunity to portray their performance.
"The neutrality of the recording system is a core component of the online auditioning process and what allows us to make sure that what you are hearing from your computer or mobile device represents the character/coloration each pair of headphones imparts on the actual source material comprised of 7 popular music genres." While Nutter acknowledges that online auditioning may not replace directly listening to headphones in person, he adds that "Sonic Sense has developed the technology to the point that it is possible to choose the best headphones for your tastes by directly comparing many more pairs of headphones than would be available at a single retail store."
About Sonic Sense:
Sonic Sense started as an online audio retailer in 1994. Preferring to focus on product education so users could determine what best suits their tastes and applications, the company has always offered demos, tutorials, and online comparisons. Recognizing that most equipment needs accessories and other components to operate fully, Sonic Sense specializes in providing purpose-built product packages. The company now offers a diverse array of pro audio and musical instruments along with detailed information about them. For more information about Sonic Sense and noise-canceling headphones, visit http://www.sonicsense.com or https://plus.google.com/+SonicSenseProAudio