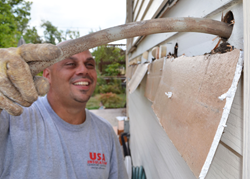 'We do not rule out a poorly performing air conditioning system as a cause for a hot home, but very often proper insulation is the only solution a homeowner needs to keep their home cool and their energy bills down.'
Eastlake, OH (PRWEB) July 08, 2014
It's a hot summer day. The thermostat is set to 72 degrees. The air conditioner is running on high 24/7. Yet the temperature in the home, especially the upstairs rooms, is still almost as stifling as the heat outside. Time to replace the old air conditioning unit?
Not so fast. One of the major sources of conditioned air loss is inadequate insulation, not inefficient air conditioning.
"We have found that homes that are poorly insulated, or nor insulated at all, can be returned to comfortably cool temperatures just by adding insulation to the walls and attic," says Patrick Pitrone, President of USA Insulation, America's largest retrofit home insulation franchise.
The reason is obvious. The walls and attic comprise about 80% of a home's shell—those surfaces that are exposed to the outside environment. If a home is under-insulated, cool conditioned air will escape and hot air get in through the barrier.
According the U.S. Department of Energy (D.O.E.), "Properly insulating your home not only reduces heating and cooling costs, but also improves comfort. The more heat flow resistance (R-value) your insulation provides, the lower your heating and cooling costs." The D.O.E. goes on to state that the R-value of Rigid Foam Insulation is "up to 2 times greater than most other insulating materials of the same thickness."
"Our proprietary USA Premium Foam Insulation is a rigid-type foam insulation that can be installed over any type of existing insulation in most any type of home exterior, from brick to stucco to aluminum siding," says Pitrone.
With Premium Foam, no interior walls or drywall are disturbed. The foam is injected as a liquid into the home's wall cavities through small holes made on the exterior of the home, which are then patched leaving little or no visible cosmetic damage. In the meantime, the foam hardens to a softer styrofoam-like consistency within seconds, giving it strength and durability unlike any other insulation product.
Of course, during these hot summer months, the home's temperature is not the only thing homeowners want to keep down. They want to keep their utility bills down, too! According to the U.S. Department of Energy, cooling a home in summer uses more energy and costs more money than any other system in the home. For a typical home, over half of the utility bill goes toward keeping the home cool.
Pitrone recommends that homeowners have a professional assess the condition of their insulation before spending thousands of dollars on a new air conditioning unit. Ironically, a poorly insulated home can actually cause the air conditioning system to break down from overuse, requiring an even more costly solution!
"We do not rule out a poorly performing air conditioning system as a cause for a hot home, but very often proper insulation is the only solution a homeowner needs to keep their home cool and their energy bills down," says Pitrone.
About USA Insulation
USA Insulation, headquartered in Eastlake, Ohio and with franchises throughout the country, has insulated over 30,000 homes nationwide since 1985. In addition to Premium Foam, USA Insulation also offers air sealing, and attic and spray foam insulation. For more information, contact Patrick Pitrone at (440) 951-6800 or go to http://www.usainsulation.net.
# # #