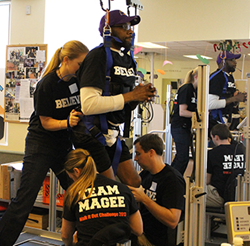 Philadelphia, PA (PRWEB) July 08, 2014
Magee Rehabilitation Hospital will participate in a 24-hour fundraising and awareness event, Walk to Victory Over Paralysis, from 9 a.m. Saturday, July 19 through 9 a.m. Sunday, July 20, 2014. For 24 hours, current and former patients and community members will walk on a treadmill in Magee's Riverfront Outpatient Center Locomotor Training Clinic to raise money for Magee's Locomotor Training Program and the Christopher and Dana Reeve Foundation's NeuroRecovery Network (NRN).
"Locomotor Training has made such an immense difference in the lives of so many people, and with Walk to Victory Over Paralysis, we have an opportunity to raise both funds and awareness on a national scale," said Mary Schmidt Read, PT, DPT, director of Magee's Locomotor Training Clinic and Spinal Cord Injury Program. "We are so grateful to the community for their continued support, and for helping us ensure this program is available for patients in the future."
The first 24 step-a-thon to benefit Locomotor Training and the NRN was conceptualized and launched by Magee in 2013. Thanks to the success of last year's event, the Reeve Foundation has worked with Magee to develop this event into a nationwide campaign. Walk to Victory over Paralysis events will be held simultaneously at eight NRN rehabilitation centers and fitness and wellness facilities nationwide. Magee Rehabilitation Hospital will host the local event at the Riverfront Outpatient Center on 1500 S. Columbus Boulevard in South Philadelphia. In addition to the 24-hour walk, other sites in the NRN are also supporting with fundraising efforts. The NRN goal is $30,000 at each center and fitness facility nationwide for a grand total of $330,000.
"Activity-based therapy and exercise is essential for someone who has experienced a spinal cord injury," said Susan J. Harkema, PhD, NeuroRecovery Network Director for the Reeve Foundation, Director of Research at Frazier Rehab Institute, Professor and Rehabilitation Research Director at the University of Louisville Kentucky Spinal Cord Injury Research Center and Owsley B. Frazier Chair in Clinical Rehabilitation Research. "We have so much more information today about recovery that is helping people lead healthier and more functional lives, and improving their overall quality of life."
The community is encouraged to participate and make a donation to support the work of the Reeve Foundation's NRN. Originated by the late Christopher Reeve, the NRN develops and expands access to activity-based therapies for people living with spinal cord injuries in order to improve their mobility, regain function, and increase their independence in living. All of these capabilities represent victories over paralysis.
Funds raised will bring greater access to new, activity-based therapies for more patients with spinal cord injury. Each center will use the funds for their greatest need, from scholarships for people unable to afford therapy to more or better equipment in the facilities.
For a complete list of all participating sites or to donate, please visit the Walk to Victory Over Paralysis website at: http://www.ChristopherReeve.org/Victory2014. For more information about participating in Magee's event, please contact Martina Galli at mgalli(at)mageerehab(dot)org.
###
About Magee Rehabilitation Hospital
Magee Rehabilitation Hospital, part of the Regional Spinal Cord Injury Center of Delaware Valley and a model center for spinal cord injury, is the Philadelphia region's original provider of physical and cognitive rehabilitation. The not-for-profit health organization provides lifetime rehabilitation and wellness programs for individuals with spinal cord injury, brain injury, stroke, amputation, orthopedic injury, geriatric illness or work injury.
About the Reeve Foundation
The Christopher & Dana Reeve Foundation is dedicated to curing spinal cord injury by funding innovative research, and improving the quality of life for people living with paralysis through grants, information and advocacy. We meet all 20 of the Better Business Bureau's standards for charity accountability and hold the BBB's Charity Seal. For more information, please visit our website at ChristopherReeve.org or call (800) 225-0292.