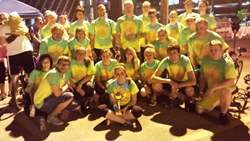 $80,000 Raised, More than 600 Cyclists and 100 Volunteers Drive Event's Success
Des Moines, IA (PRWEB) July 09, 2014
Orchard Place, mental health experts for Iowa's children, is proud to announce results of its third annual Moonlight Classic bike ride held Saturday, June 14th.
With the help of more than 600 cyclists, 100 volunteers many corporate sponsors, Orchard Place was able to raise a record $80,000 to fund Orchard Place Summer School and its Enrichment and Latino Outreach programs for at-risk children. Participation in the Moonlight Classic makes these vital programs possible. A Thank You Video of the event can be found on the Orchard Place News Page.
For the third year, Sammons Financial Group was the presenting sponsor of the ride. Additional sponsors included: Alliance Technologies, American Equity, Bankers Trust, CenturyLink, Clear Channel Media & Entertainment, Clear Channel Outdoor, Des Moines Truck Brokers, El Bait Shop, EMC Insurance Companies, Engineering Resource Group, Hy-Vee, Kemin Industries, Kevin Bannister/RBC Wealth Management, Knapp Properties, LMC Insurance and Risk Management, Lou and Wendy Waugaman Fund, Marsh, Magellan, Mark J. Becker & Associates, Mediacom, R&R Realty Group, Two Rivers Bank & Trust, Unity Point Health - Des Moines and Voss Distributing.
Despite the threat of rainy weather, bikers were eager to enjoy the 10-mile night bike ride through the streets of downtown Des Moines. This year's event featured a new route with fantastic views of major Des Moines landmarks.
Award winners were:
Best Costume: Boomer Creger as WWF Macho Man
Best Bike Lights – Jeff and Emily Foster
Best Helmet Lights – Keven Vore
Moonlight Cup (largest team of registered cyclists) – Team Pedal Power from Mark J. Becker & Associates (51 registered riders)
To contribute to the Orchard Place Summer School or the Latino Outreach Programs, simply visit Orchard Place's Event Donation Page.
About Orchard Place:
Orchard Place is the oldest locally-based charity in Des Moines providing mental health treatment and expertise for Iowa's kids. Our inpatient, outpatient and community program serves nearly 8,000 children from birth to age 22 annually. Four operating divisions work under the Orchard Place umbrella of services: Child Guidance Center, Orchard Place Campus, PACE Juvenile Center and the Integrated Health Program. More information can be found at http://www.orchardplace.org