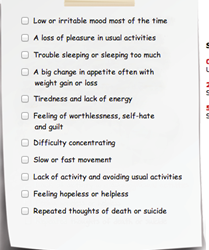 Sunset, LA (PRWEB) July 10, 2014
The makers of the advanced generation prescription folate therapy, EnLyte, have an easy way for people to find out if they are suffering from depression: a quick questionnaire available through this link: http://www.enlyterx.com/Patient%20Resources/.
Depression is widespread and common, affecting 20 million people in the US alone. It can be environmental or genetic, and the symptoms can be sneaky, ranging from too much to too little sleep. In fact, many people might not even realize "depression" is what they have. Primary care doctors are usually the first to treat it, and patients can help to identify it. JayMac Pharmaceuticals has designed an 11 question form that can be printed from home and taken with patients to their doctor. Although traditional antidepressants are often prescribed, they frequently come with cumbersome side effects and drug interactions that lead more than half of all people to stop taking them altogether. JayMac offers a new alternative in depression treatment that is safe, natural, and affordable: EnLyte.
When depression goes untreated, it can lead to many other health problems, and significantly impact quality of life. Be proactive in your healthcare and treatment plan. If you suspect depression in yourself or someone you love, learn more about a safe, natural, and effective option by visiting http://www.EnLyteRx.Com.
About EnLyte
EnLyte with Delta Folate is complete prescription therapy for conditions related to folate deficiency. Visit http://www.EnLyteRx.Com for more information.
About JayMac Pharmaceuticals
JayMac Pharmaceuticals, LLC is a Sunset, LA-based company gaining interest with the introduction of EnLyte into the psychotropic and psychiatric markets.