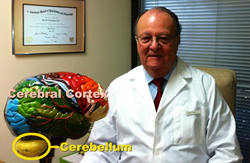 Levinson's multidimensional concept proved capable of encompassing all the known diverse data, theories and therapies characterizing dyslexia and its overdetermined reading process.
Great Neck, NY (PRWEB) July 08, 2014
A new study just published in the journal Neurocase revealed significant attention deficits for adults with dyslexia akin to those previously found in children. Lead author Dr Michael Proulx concludes that dyslexia arises not only from deficits in phonological processing as currently viewed, but from attentional mechanisms which can likely be improved utilizing specifically designed electronic print and games.
Because dyslexia is now believed to affect over 10% of children and adults, often devastating their performance and self-esteem, it is imperative to clarify its true cause and provide vital treatment as soon as possible.
Ever since reversal prone dyslexic children with reading, writing, spelling and math symptoms were first recognized over a century ago, this disorder was mistakenly considered caused when [ abnormal reading processors within the cerebral cortex or thinking brain fail to recognize the clear signals received. Thus dyslexia was incorrectly defined to exist only in severe form despite the presence of many dyslexics with only mild and even "cured" reading impairments.
The obvious visual, tracking and directional or reversal reading symptoms characterizing most all dyslexics were recently discarded by traditionalists rather than integrated within a needlessly restricted phonological hypothesis and definition. And all the coexisting non-reading writing, spelling, math, speech, balance, coordination, etc. symptoms that are invariably part of dyslexia were similarly excluded by considering them comorbid—overlapping but of different cerebral origins.
According to Dr. Levinson's four decade research effort encompassing more than 35,000 dyslexics of all ages, dyslexia was recognized to be a syndrome of diverse reading and non-reading symptoms co-existing in varying combinations and severities. Hundreds of dyslexic symptoms as well as their underlying dysfunctional mechanisms were clinically shown to result when initially normal cerebral brains structures fail to adequately process the scrambled sensory and motor signals received and transmitted. And the signal-scrambling was demonstrated due to a fine- tuning dysfunction within the cerebellar-vestibular or "inner-ear" system.
By treating dyslexics with cerebellar or inner-ear-enhancing medications and related therapies, most all their symptoms rapidly and often dramatically improved. Importantly, an analysis of the triggered improvements highlighted a wide-range of previously hidden cerebellar-determined mechanisms responsible for all the dyslexic reading and non-reading symptoms as well as the so-called comorbid disorders.
Thus the dyslexic reading disorder was recognized by Levinson due to an overlapping combination of dysfunctioning cerebellar-determined mechanisms impairing memory, orientation, fixation and tracking, foreground/background separation and stability, light sensitivity, phonetics, attention, rapid multi-sensory processing, and many other important factors. The latter difficulties then resulted in further secondary inattentive and memory or pseudo-comprehension issues.
By comparison, the cerebral cortex or thinking brain was shown by Levinson to play a vital compensatory role in dyslexia rather than a causative one as traditionally thought. Thus, for example, dyslexics used a finger or marker or larger print as well as slow reading speeds to compensate for their fixation and tracking impairment. The list of cerebral "compensatory symptoms" utilized by dyslexics appeared both ingenious and endless, and often included an enhanced ability to descramble highly distorted reading signals. Were diverse cerebral processors primarily impaired in dyslexia, then bright, gifted, successful and compensated dyslexics would not exist.
Levinson's multidimensional concept of dyslexia proved capable of encompassing all the known diverse data, theories and therapies as well as explaining and successfully treating the attention deficits just proven to primarily complicate the dyslexic reading process. By contrast, the phonological theory and definition of dyslexia can only partially account for and treat phonetic-related processing difficulties, and absolutely nothing more.
About Harold Levinson, M.D.:
Formerly Clinical Associate Professor of Psychiatry at New York University Medical Center, Dr. Harold Levinson is currently Director of the Levinson Medical Center for Learning Disabilities in Long Island, New York. He is a well-known neuropsychiatrist, clinical researcher and author. For more information, call 1(800)334-7323 or visit: http://dyslexiaonline.com.