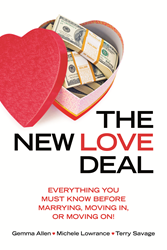 It's part of our DNA to want relationship security, so we recoil when the possibility is questioned. Not only can love and money be talked about together, but if the conversation is done with respect, the relationship will have a better chance of success.
Chicago, IL (PRWEB) July 09, 2014
Gemma Allen, a prominent family law attorney; Judge Michele Lowrance, a long-time judge in the divorce division who is now a mediator; and Terry Savage, a famed financial writer and money advisor, explore the financial and practical issues that couples confront, and the agreements that can resolve these differences and protect relationships in The New Love Deal: Everything You Must Know Before Marrying, Moving In, or Moving On.
While society recognizes the many changes in relationships, such as same sex marriage and record numbers of couples cohabiting, there is a lack of legal guidelines and procedures for navigating these murky waters. And as a result, breakups are messy— and not only from an emotional standpoint.
The New Love Deal acknowledges these changes and offers direction for making relationships succeed; or if dissolving, in a way that prevents additional tears and pain by integrating the power of communication with the power of rationality to create the best outcomes.
"We believe that creating the appropriate agreement will not only protect your relationship, but enhance it because you are no longer fearful of the unspoken issues that might eventually divide you," argues Gemma Allen.
"Don't fear that this discussion will destroy the romance. Done with our guidance it can establish an open and honest sharing of feelings to create a strong base for your relationship to grow," says Judge Michele Lowrance.
The New Love Deal is the authors' response to a thorny dilemma, detailing:

Why Pre-nups and Co-nups (cohabitation agreements) help relationships survive.
How drafting these agreements help you understand and appreciate your partner's financial personality.
How couples can establish a Money Management Plan that acknowledges different incomes, assets, and financial goals.
How to have "The Conversation" asking for a pre-nup.
Day-to-day issues and long-term considerations for Cohabitation Agreements.
Current definitions of laws surrounding DOMA, same-sex marriage, and civil union (including updates to laws in real time at http://www.TheNewLoveDeal.com).
How contracts keep you out of court.
When to recalibrate an existing marriage or relationship.
"Money is often cited as the leading cause of breakups, but it is not just about the money. It's about all the things we don't discuss before making a commitment: goals, expectations, lifestyle, conflict resolution. And if you don't make plans about how you will handle these issues then money becomes the center of a power struggle," details co-author, Terry Savage.
While we all wish for the happily ever after, The New Love Deal, will turn those dreams into a positive reality. It is for all couples from Park Avenue to the park bench, whether they are getting married, moving in together, have children and property together, or have been married or living together for years.
About the Authors
Gemma Allen: View from the Bar
Gemma Allen is a prominent Chicago divorce attorney who litigates the dissolution of the relationships which might have been saved if the parties had earlier addressed the dollars and "sense and sensibility "issues. She is a contributor to legal journals on the subject of matrimonial law, and a frequent television guest expert on relationship issues, and founder of a Think Tank on "Better Beginnings" for relationships.
Judge Michele Lowrance: View from the Bench
Judge Michele Lowrance is a longtime divorce court judge and author of The Good Karma Divorce. She has been featured in a television series on couples' mediation. As a judge, she presided over thousands of marital breakups. Now, as a professional domestic relations mediator, she works with divorcing couples—and those creating prenuptial agreements.
Terry Savage: View from the Bottom Line
Terry Savage is a nationally syndicated financial columnist, and the author of The Savage Truth on Money, The Savage Number, and several other best-selling financial planning books. She is often on CNN and other national television and radio programs, commenting on the markets and the economy and advising people on how to make smart money decisions that will provide long-term financial security.