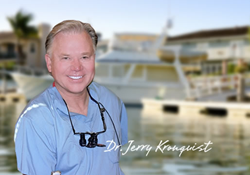 Santa Ana, CA (PRWEB) July 07, 2014
Dr. Jerry Kronquist of Sunset Dental Group now performs the Pinhole Surgical Technique (PST™), a new method of gum recession treatment in Santa Ana, CA. Gum recession affects up to half of adults in the United States, making it one of the most common health problems in society. This problem affects the cosmetic appearance of smiles as well as the overall health of patients who suffer from it, but recession is not always painful in its early stages. Many factors lead to recession, but periodontal disease is one of the most common.
PST™ is a minimally invasive procedure that is an alternative to traditional gum recession surgeries. Prior to this groundbreaking treatment, gum recession surgery involved painful gum grafts, where gum tissue was taken from another part of a patient's mouth or a tissue bank and then grafted to areas in need, providing coverage of the exposed tooth roots. Now Dr. Kronquist offers an easier, more effective gum recession treatment in Santa Ana, CA. He makes only a very small opening in the gums and, through this entry point, lifts the gum tissue to move it to a better position on the teeth. The procedure involves only minor discomfort and swelling, and patients see immediate improvement. No cutting or stitches are necessary, and the healing time is significantly reduced.
Gum recession is common throughout the United States. Projections estimate that up to half of US adults have recession, but many are not seeking treatment because recession is not initially painful. Dr. Kronquist encourages treatment because gum recession often leads to root decay and other health problems. It is also an important sign of periodontal disease, or gum disease. If recession and gum disease are left untreated, patients may eventually lose their teeth. Dr. Kronquist stops all of these complications by addressing the problem. He evaluates the cause of recession to help patients avoid a recurrence, and performs the highly innovative PST™. If he determines that periodontal disease has created the recession, he also addresses the disease with other effective treatments.
Anyone interested in learning more about gum recession treatment in Santa Ana, CA should view Dr. Kronquist's website or contact his office by phone. Dr. Kronquist is excited about the help he can provide to those suffering from gum recession, and he is happy to perform consultations in his office.
About the Doctor
Sunset Dental Group is a general practice offering personalized dental care for patients in Santa Ana, CA. Dr. Jerry Kronquist has been practicing in Santa Ana for over 30 years. Dr. Kronquist graduated from USC undergrad in 1977 and UCLA Dental in 1982. He has extensive training in Cosmetics, Orthodontics, Periodontics and Implantology. To learn more about Sunset Dental Group and their dental services visit their website at http://www.sunsetdentalgroup.com/about-us/ or call (714) 547-6671.