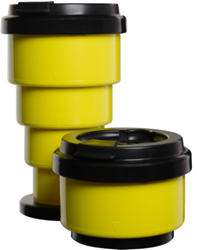 No other travel mug offers Collapse-A-Cup's function and portability.
New Haven, Connecticut (PRWEB) July 15, 2014
Faris Enterprises is thrilled to announce the launch and availability of Collapse-A-Cup, an insulated travel mug so convenient it just might cause the extinction of the single use disposable cup. Collapse-A-Cup is a collapsible, reusable, insulated travel mug that combines high tech design, function, and convenience. The patented Collapse-A-Cup is made in the USA, is BPA free, and is microwave and dishwasher safe. What truly makes the Collapse-A-Cup unique, however, is that it collapses down from a nearly 7 inch, 17 ounce capacity cup, to a mere 3 inches. It's easily carried in a purse, briefcase or backpack, making it the ideal travel mug to replace paper, styrofoam and plastic disposable cups. No other travel mug offers Collapse-A-Cup's function and portability.
"I was inspired to create a collapsible, reusable cup after seeing just how much waste we were producing," says David Faris, President of Faris Enterprises and owner and creator of Collapse-A-Cup. "Unnecessary waste is a major concern and if things continue as they are, the damage to the environment will be immense."
Every year Americans throw away 25 billion disposable cups.* According to CNN**, citing the recent reports of the United Nations Environment Programme and the NGOs Global Ocean Commission and Plastic Disclosure Project, Americans face an urgent need to reduce or eliminate their unsustainable consumption of plastics. Plastic waste makes up 80% of the litter in and along the oceans and shorelines, causing damage to the oceans and destruction of ecosystems and marine animals. Every year America's dependence on disposable cups creates 363 million pounds of waste, kills 9.4 million trees, and squanders 7 trillion BTU's of energy. Replacing those damaging disposable cups with Collapse-A-Cup will reduce plastic consumption, minimize waste, conserve natural resources and reduce the tons of plastic dumped in our landfills and oceans.
Faris spent three years developing an environmentally friendly travel cup that people would actually enjoy using.
"I know the continued use of disposable single use cups is unsustainable but there wasn't a real viable alternative. The market is flooded with refillable travel mugs but they're full sized, making them bulky and cumbersome to carry around. My goal," says Faris, "was to create a highly functional travel cup, but unlike the others, this one had to be easy to transport.
"Collapse-A-Cup does just that. At three inches in diameter, it's easily transported everywhere you go.
"Every cup we throw out counts. Together we can reduce waste and conserve our natural resources, one cup at a time."
For more information about the benefits of Collapse-A-Cup, please visit: http://www.collapse-a-cup.com or email info(at)collapse-a-cup(dot)com. Business inquirers can email b2b(at)collapse-a-cup(at)com
David G. Faris
President
Faris Enterprises
Info(at)collapse-a-cup(dot)com
*According to Resourceful Schools http://resourcefulschools.org/reuse-paper-cup/
**CNN http://www.cnn.com/2014/06/24/world/ocean-plastic-trash