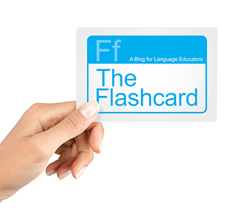 Renton, WA (PRWEB) July 08, 2014
TOPICS Entertainment (http://www.topics-ent.com), sponsor of TheFlashcard.org—a blog for language educators, is pleased to announce the release of the latest post, Stop Ignoring Your Language Students' Unique Learning Needs. The article touches on personal learning styles in language acquisition and how teachers can accommodate individual students, including incorporation of language technology and how it can be beneficial across learning styles.
The post is written by The Flashcard's chief contributor and editor Don Gibb. Gibb brings a wealth of experience as a learner of Chinese (Cantonese and Mandarin), an ESOL and Special Education teacher, businessman, entrepreneur and writer. The last few years, Gibb has been employed by, or a consultant for, some key education tech publishers in the digital language learning space. The Flashcard has a digital-learning technology focus and provides insights, news, events and resources related to the learning and the teaching of new languages.
The Flashcard also welcomes guest blogger proposals, press releases and event announcements related to language education for possible publication.
Submit Proposals to The Flashcard
Guest blogger proposals, press releases and event notices should be in the body of an e-mail. The subject line should include GUEST POST, PRESS RELEASE or EVENT NOTICE (ALL CAPS) at the beginning. E-mails with attachments will be rejected. Submit proposals to: theflashcard (at) topics-ent (dot) com.
Gibb and guest blogger opinions on The Flashcard will be their own and not official commentary of TOPICS Entertainment.
ABOUT TOPICS ENTERTAINMENT
TOPICS Entertainment (http://www.topics-ent.com) is the largest privately held multimedia publisher in the United States offering the DVD, software and audio industries' most diverse content at competitive prices in prestigious club, mass and chain retailers throughout the United States, Canada and Mexico. TOPICS represents well-known and respected brands, including National Geographic™, James Earl Jones Reads the Bible, the U.S. National Archives, public television's OVER® series, the No. 1 best-selling language-learning line Instant Immersion™, and more!
TOPICS is now offering Instant Immersion™ VT (http://www.instantimmersion-vt.com) second language e-learning solutions directly to schools, businesses and other enterprise customers.