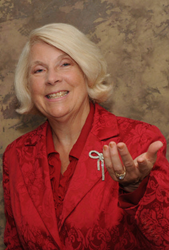 Retirees worry about outliving their money.
Daytona Beach, FL (PRWEB) July 09, 2014
Most retires worry about outliving their money. "Aesop's Keys to Profitable Marketing" coaches retirees to start up a profitable business. Publishing Directions LLC is the publisher.
Dr. Betsy Kruger's book explains why retirees can profit from using new marketing strategies. Some of "Aesop's Keys" are to focus on quality, compete on strength, target top prospects, and reward the best. The chapters update tales by Aesop, relate his wisdom to marketing, and show how to adapt each key to their business.
For example, Chapter 9 coaches retirees to prosper by targeting prospects similar to their key customers. A vignette tells how "dinosaurs" devoured a supplier of linens to businesses. My marketing research reported that past customers had newer buildings than current customers. My client shoved the results off the table. "Our current customers are dinosaurs. No one but dinosaurs will want our service. Without new prospects, we're going out of business!"
As predicted, the company went out of business. My client believed that laundering rolls of linen towels was passé, but the company that acquired it promoted its benefits to key prospects.
This vignette reminds us of a tale by Aesop. An old crab criticizes her son. "Why do you walk sideways like that, my son? You ought to walk straight."
Sweetly, the young crab replied, "Since you want to teach me, show me how to walk straight, my dear mother, and I'll follow your example."
The old crab tries, but she tries in vain. "I was foolish to find fault with you." Aesop says, "Example is better than precept."
Was Aesop right—do we learn best by example? Are key customers examples of your key prospects?
Yes, retirees can use the traits of the top twenty percent of their customers to identify key prospects. According to a universal law, the 80/20 rule, the top twenty percent of customers bring in eighty percent of the profits. "Dr. Kruger has laid out an easy-to-use process for growing top customers in any business," confides Robert Iocco, CPA, CIC, CEO, Trustpoint Insurance, Bristol, VA
Dr. Kruger's mission is to ignite the engine of prosperity with her message. She conveys twelve ways any business can profit by using the 80/20 rule.
After selling her software worldwide, she provided consulting to many corporations and coached over 2000 start-ups to succeed. Her first book, "Top Market Strategy: Applying the 80/20 Rule," enriches graduate marketing courses. She owns Strategic Power, a marketing consultancy rated A+ by the Better Business Bureau and certified by WBE and WOBE.
Dr. Betsy Kruger coaches business leaders and speaks to associations and businesses. She is an expert source on the topic of marketing for small businesses and start-ups. For more information, please call her at 386-235-5296 or email Betsy(at)BetsyKruger(dot)com.