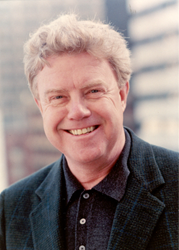 Moran brings a very current perspective to Menlo's time-honored legacy as an institution of business education.
Atherton, CA (PRWEB) July 08, 2014
The Menlo College Board of Trustees is pleased to welcome Richard A. Moran as the tenth president of Menlo College. Moran, CEO of Accretive Solutions, is a Silicon Valley leader in business and education. As a consultant and operating executive, he is an evangelist for organizational effectiveness. He has authored seven books and is credited with starting the genre of "Business Bullet Books." His most recent book is titled "Navigating Tweets, Feats and Deletes." He is a frequent speaker on workplace issues and hosts a weekend radio show on KCBS called "In the Workplace."
Menlo College Trustee Geir Ramleth '87, chair of the presidential search committee said, "Moran brings a very current perspective to Menlo's time-honored legacy as an institution of business education. His instinctive understanding of the modern workplace and his ties to Silicon Valley will be a valuable asset in our partnership with the business community. His creative and innovative approach in identifying trends and norms in the workforce will emphasis that our business curriculum is state of the art."
He earned an A.B. at Rutgers College, M.S. at Indiana University, and Ph.D. at Miami University, in Oxford, Ohio. Moran was a Partner at Venrock, and at Accenture. In the public sector, he has applied his organizational expertise as Chairman of the Board for Golden Gate University; the Board of Regents at Saint Ignatius Prep; the Steinbeck Innovation Foundation; and Project Open Hand in San Francisco.
Moran serves on boards of the Council of the National Trust for Historic Preservation, the National Association of Corporate Directors, Silicon Valley Chapter, and the Silicon Valley Leadership Group. He is the Chair of the Audit Committee at the Noyce Foundation, and a member of the policy-making group that coordinates the Domain Name System and Internet Protocol addresses.
He has been featured on NPR, in Fast Company, and is a columnist for wine country newspapers. He is a regular contributor as an Influencer on LinkedIn. He and his wife Carol Gilbaugh Moran have four children.
Rich Moran stated, "I could not be happier in assuming the mantle of President at Menlo College. It is a Silicon Valley jewel and I welcome the opportunity to continue to build a great college." Moran begins his position in September 2014.
About Menlo College: Menlo College, Silicon Valley's Business School, was established in 1927, and is located 30 minutes south of San Francisco. It is a private, four-year, accredited, residential business college located in Atherton, California. http://www.menlo.edu