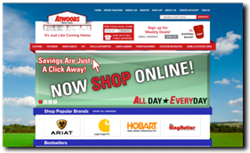 From contract to implementation, ShopVisible has provided excellent eCommerce direction best practices to help us expand the ATWOODS brand and serve a broader audience.
Enid, Okla. (PRWEB) July 08, 2014
Today, ATWOODS, a leading general merchandise retailer with 55 brick and mortar stores, announces the launch of its first ever transactional eCommerce site, atwoods.com. ATWOODS partnered with leading SaaS eCommerce provider, ShopVisible, to power the new site, which provides inventory visibility and online ordering capabilities designed to provide a broader product line to its ever growing customer base.
With the launch of the new site, atwoods.com offers customers a complete multichannel online shopping experience. Through broader product line availability and store locator feature on its new website and mobile site, shoppers can take advantage of specific store-related promotions and order online with inventory visibility at their fingertips.
ATWOODS chose ShopVisible to launch its new site based on the eCommerce leader's integration capabilities. In addition, ShopVisible's platform met all of ATWOODS feature requirements - from front end features such as ratings & reviews, cross sell/upsell functionality, and personalized wishlists to full order management capabilities. Further, ATWOODS sought out ShopVisible's B2B commerce expertise and functionality. Currently 20 percent of ATWOODS' customer base consists of B2B buyers, such as government entities and farms. The new eCommerce site is equipped to also serve the unique needs of these business consumers, including differentiated pricing models, tax exemption information, and secure online account access.
"From contract to implementation, ShopVisible has provided excellent eCommerce direction best practices to help us expand the ATWOODS brand and serve a broader audience" said Dustin Koehn, eCommerce project manager at ATWOODS. "It is very refreshing to work with a company that 'understands both the technology and business side of operations – their guidance has been incredibly valuable to us."
"We're thrilled that ATWOODS has launched its new site on the ShopVisible platform, and look forward to continue to roll out functionality as its eCommerce business expands," said Sean Cook, CEO of ShopVisible. "ATWOODS' newly integrated omnichannel commerce model is sure to boost customer satisfaction, build customer loyalty and increase revenue. As eCommerce expectations continue to grow with the rise of mobile transactions and online showrooms, smart retailers not only recognize, but prioritize the need to serve customers through multiple channels and surpass their online shopping expectations."
###
About ShopVisible
ShopVisible is an end-to-end SaaS commerce platform that powers the shopping experiences of today. Whether your customer is an individual consumer or a business, we power the commerce sites that enable them to buy from you. Reach your customers online, on their mobile devices or through popular channels like Amazon and eBay. ShopVisible also enables your back office management including orders, inventory, channel, content management and more. With our APIs, the ShopVisible commerce platform is extensible and easily integrates to 3rd party systems such as fulfillment, ERP, PIM, and other platforms that are core to your business. ShopVisible helps brands and businesses to attract and retain the new connected customer and is the chosen platform for companies like 3M, Century Martial Arts, Tempur-Pedic, Office Depot Canada, Plow & Hearth and MovieMars. Learn more at ShopVisible.com and by following @ShopVisible.
About ATWOODS
In the winter of 1960, Wilbur and Fern Atwood moved from southwestern Minnesota to Enid, Oklahoma to start a new business. They opened their first ATWOODS store with the intention of providing farm and ranch supplies at discount prices in a family friendly atmosphere. In the years that followed, the Atwood's worked to ensure each customer felt that same comfortable feeling each time they visited. They wanted the shopping to feel neighborly - for folks to not only find great value in the everyday low prices, but enjoy the experience, and feel as welcome as if they were in their own home. Today, ATWOODS is still family owned, covering a five state area, with 55 stores in operation and more on the way. The number of stores has grown, and the number of product lines has grown along with it, but the value and commitment to the customer still remains. Our goal is for everyone to enjoy their shopping experience. We hope you'll stop by and shop with free popcorn in-hand and have your questions answered by an associate who feels more like a friend. ATWOODS has all the items a customer needs, whether they're tending a back patio or working a full ponderosa, we're a neighbor to them all. Because at ATWOODS- It's Just Like Coming Home. For more information, visit Atwoods.com.