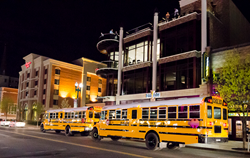 "Hosting Transfinder University at our new headquarters is a milestone for our company," said Transfinder president and CEO Antonio Civitella.
Schenectady, NY (PRWEB) July 08, 2014
Transfinder Corp. is hosting for the first time representatives from a dozen school districts this week for an intensive training program called Transfinder University.
Transfinder clients are coming from as far as New Mexico, Ohio and Indiana for three days of instruction to better understand Transfinder's suite of bus routing software in advance of the first day of school. Transfinder develops software used by more than 1,500 school districts in 48 states to route the safest and most efficient bus routes.
"Hosting Transfinder University at our new headquarters is a milestone for our company," said Antonio Civitella, Transfinder's president and CEO. "This is one of the reasons why I decided to have this fully modern headquarters built. We are excited about bringing a select group of clients to our office, where they will be able to meet and interact with their account managers and tech support. We are honored to see clients coming from as far away as New Mexico, Indiana and Ohio, knowing that they see the value in getting the most out of Transfinder's products."
Julie Urig, Transfinder's training manager, has conducted hundreds of training sessions a week with clients over the Internet. What takes 10 weeks to cover in hourly sessions over the Internet will be covered during concentrated sessions over three days this week.
"At the end of the three days, students who pass the final exam will receive the same certificate that those receive who complete the online program," Urig said.
Transfinder University comes on the heels of Transfinder's Annual Client Summit, which was held in May in downtown Albany, New York. This year's conference, which drew more than 200 Transfinder clients from 33 states and Canada was the company's largest to be held in New York state.
According to the Chamber of Schenectady County, a visitor to region spends approximately $200 per day. Schenectady Mayor Gary McCarthy said he hoped Transfinder's clients enjoyed their time in Schenectady, sampling the various establishments here.
"Once again, Transfinder is continuing on its path of continued success and innovation by launching its Transfinder University program at its headquarters here in Schenectady," McCarthy said. "We hope the attendees enjoy the dining and entertainment option they'll find downtown."
Chuck Steiner, president and CEO of the Chamber of Schenectady County, also extended a welcome to Transfinder's clients.
"Defining a community begins and ends with knowing that one is sincerely welcomed," Steiner said. "Schenectady is fortunate to have you visit us, our community, our home. Welcome."
About Transfinder
Founded in 1988 and headquartered in Schenectady, New York, Transfinder is a national leader in intelligent transportation systems, providing transportation management systems and services to school districts and adult care facilities. Transfinder, an Inc. magazine "fastest-growing company" list for the past eight straight years, offers routing and scheduling solutions for optimal transportation logistics. For more information, visit http://www.transfinder.com.