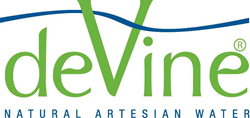 ...people here from all over the country will see Oklahoma businesses hard at work.
Oklahoma City, OK (PRWEB) July 08, 2014
Almost 200,000 people from all over the country will brave the Oklahoma heat this week and flock to the 2014 U.S. Senior Open. Oklahoma water company, deVine Water will be the official water partner hydrating the 2,500-3,500 volunteers it takes to host an event of this magnitude.
deVine Water is based in Jet, Okla., and a member of the Made in Oklahoma Coalition. They are proud to be an official partner of the 2014 U.S. Senior Open. They have been given the important task of keeping volunteers and management hydrated.
The 2014 U.S. Senior Open is taking place this week at Oak Tree National in Edmond, Okla. deVine Water was busy last week setting up for the event.
"The event is amazing," deVine Water owner, Max McDermott said. "It looks like they built an entire city on the golf course."
McDermott has been busy filling the press rooms, logistics rooms, trailer houses and everywhere event management is set up with his deVine Water. McDermott expects that his company will go through about 5,000 gallons of water by the time the event concludes on Sunday.
"This event is a huge opportunity for my business to represent the Made In Oklahoma Coalition and other Oklahoma businesses," McDermott said. "There will be people here from all over the country who will see Oklahoma businesses hard at work."
Kerry Barrick, Program Director of the Made In Oklahoma Coalition is thrilled that deVine Water is getting this national exposure opportunity. "Each member is like family to us and we are so excited to see one of our members get exposure on this grand of a scale," Barrick said. "This event has a huge positive economic impact on our local community."
The Made in Oklahoma Coalition promotes brand awareness and consumer loyalty for more than 40 Oklahoma food and agricultural producers. Member companies employ more than 20,000 Oklahomans and generate more than $3.5 billion in annual revenue for the state. To learn more about the Made in Oklahoma brands, visit: http://www.miocoalition.com or contact Made in Oklahoma Coordinator Kerry Barrick at the Oklahoma Department of Agriculture in Oklahoma City at Kerry(dot)barrick(at)ag(dot)ok(dot)gov.
###