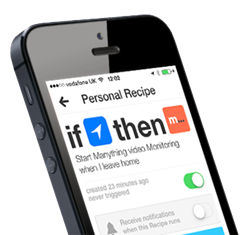 "Manything fits into what the 'Internet of Things' is really all about – taking everyday objects and adding a new level of control to save money and to make life easier."
San Francisco, CA (PRWEB) July 08, 2014
DIY video monitoring start-up Manything has shaken up the $1 trillion 'Internet of Things' market with the announcement of its Channel on IFTTT.
Manything, a video monitoring app that lets users re-deploy spare iOS devices as video monitoring cameras, has announced that Manything users can now set up simple "If This Then That" Recipes to communicate with popular location apps and home automation products.
The Manything IFTTT Channel is launching with motion detection triggers and actions to stop and start recording. Users will be able to control their Philips Hue lights or Belkin WeMo devices when Manything detects motion, or tell Manything to start recording when they leave home using Siri, SMS, Life360 and others.
"Homeowners can now add sophisticated video monitoring to the list of things they can control while away. Best of all, they don't need to buy a dedicated camera to achieve this.' said Manything CEO and co-founder James West.
"For example if your Manything camera detects unusual motion, IFTTT will turn on the lights to make it look like someone's home. Or if your Nest Protect detects smoke, IFTTT will get Manything to send you video of what's just happened. You can even set Manything to automatically start recording when you leave home. "
"Things are moving rapidly in 'The Internet of Things' sector as we continue to move into a connected world," said James West. "It's now worth $1 trillion and some of the world's biggest tech innovators – companies like of Google, Apple and Microsoft – are heavily investing and expanding their presence in the space. We think video monitoring is going to play a big part in that."
Nest's recent acquisition of Dropcam has highlighted that video home monitoring is set to become a big part of the connected home market. While there is overlap between the features of Manything and Dropcam (both companies offer cloud video recording, motion alerts, and live viewing from smartphones), the start-up believes it is creating an entirely new category: an instant, purchase-free, video monitoring solution. Manything is also the first video monitoring service to announce an IFTTT Channel.
"Manything fits into what the 'Internet of Things' is really all about – taking everyday objects and adding a new level of control to save money and to make life easier."
The Manything app is available on iTunes at http://bit.ly/1i9wfFC and to celebrate their launch the service comes with 30 days continuous free cloud storage until later this year.
About Manything
Manything brings together a team of entrepreneurs with a history of spotting future technology trends. Mike Fischer, founder and former CEO of RM (a FTSE 250 company), brought computing to schools; James West, CEO of Alamy, the world's largest collection of stock photos; Tim Pearson, also a former CEO of RM and former chairman of Updata Infrastructure (a Times TechTrack100 company). They are joined on the board by Dan Germain, creative director of Innocent Drinks (recently acquired by Coca-Cola).
About IFTTT
Founded in December of 2010 and launched publicly September 2011, IFTTT is a service that lets you create powerful connections with one simple statement: If This Then That. The IFTTT community can create if this then that connections, called Recipes, between lots of different applications, called Channels, including Facebook, Twitter, Dropbox, Evernote, Gmail and others. IFTTT also works with devices like the Belkin Wemo, UP wristband by Jawbone, Withings, and the Philips Hue bulb.
Media Contact
For further information please contact:
Joanna Santander, Head of Business Development, Manything
T:+44 (0)1235 827413
M:+44 (0)7780 458 987
E:joanna.santander(at)manything(dot)com