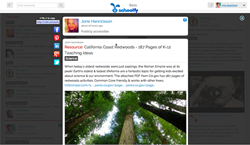 What YouTube is to videos Schoolfy is to online lessons
Palo Alto, CA (PRWEB) July 08, 2014
The educational technology company Schoolfy has launched a unique lesson-sharing website to help improve education worldwide. A boundary crosser, Schoolfy.com is friendly with social media, email and commercial educational platforms.
Essentially Schoolfy gives teachers the power to create "knowledge capsules" within a few minutes. These can be used to share resources worldwide or within a private classroom community.
Schoolfy.com's free technology tackles a variety of problems in education, from outdated textbooks to overworked teachers. With a variety of sharing options, it also addresses concerns about online privacy and digital learning.
Blend and Flip: Combine Old and New Resources Online
Schoolfy lets a teacher share a combination of lesson files – from old worksheets to breaking news articles – as a single post that can travel the web. Online video and images can be embedded to create a visually attractive lesson capsule, and commentary about the lesson travels either publicly or privately. Google Plus, Pinterest and Facebook are among the compatible social media forums.
Although work can be kept private, public sharing is encouraged. Co-founder Oscar Civantos says, "The more that teachers share their best work, the less each needs to reinvent the proverbial wheel. That's particularly important now. Schoolfy lets teachers share Common Core lessons and distribute them to classrooms with just one click."
"Blended and project-based learning are supported, and students can receive real-time feedback from the instructor. These features help make Schoolfy the perfect tool for flipping the classroom."
Portable Lessons Give Outdated Textbooks a Lift
Schoolfy's web application is intriguing for any industry, but it's especially designed to address resource shortages in education. Civantos is motivated largely by macro-level obstacles. "Politics and high-level budget decisions interfere with education; they restrict access to knowledge." He adds, "Textbooks are expensive. And education standards change. Not all publishers can deliver up-to-date content. Regardless of these factors, people worldwide should have access to excellent learning materials."
With Schoolfy.com, educators can supplement their textbooks or create lessons from scratch. Lesson capsules can hold a teacher's own files, online content and interactive test questions.
Personalized Learning with Mass Potential
Schoolfy has definite MOOC potential, but it was developed with individualization in mind. Civantos explains, "Teachers can edit and reuse their posts for different audiences. You can't do that with other social media. They can also alter most lessons they find -- change the introduction, switch out files, and make the test just right for a class or a particular student."
Schoolfy's user-friendly editor makes personalization practical. Multiple versions of a lesson can easily be generated and distributed. Furthermore, within Schoolfy teachers can create tests that are automatically graded when submitted. Grading multiple versions of a test requires virtually no effort, and results can be exported to a spreadsheet.
As educators say, "Involve me and I understand." To understand the power of Schoolfy, click a capsule and explore!
Next Step: Crowdfunding for the Paperless Revolution
Schoolfy.com launched its free educational technology on June 2. A crowdfunding campaign is now underway at Indiegogo.com to help the company reach a wider audience, develop additional features and supply schools with tablet computers.