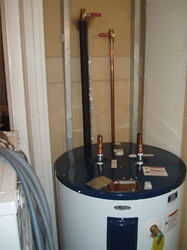 alexandria, virginia (PRWEB) July 08, 2014
It's obvious that the Virginia and DC area is very expensive for all services. Some companies are charging $2500 plus for a general electric water heater. 4FastPlumber is selling a Bradford and White 50 gallon gas water heater for $1700 which includes basic installation. Not only are you getting an amazing deal, you are getting a high quality water heater. They are also offering an electric water heater with basic installation for $1250.00 which is also a Bradford and White. This is a limited time deal and is by far the cheapest deal in Virginia.
4FastPlumber has been in business for over 20 years and has over 500 five star reviews between Angieslist, Yelp, and Google Local reviews. If you are interested in their services, please call 1-800-461 7770 today or visit their water heater page at 4FastPlumber Water Heaters.