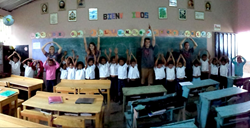 This year's students brought impressive levels of knowledge and energy to El Socorro. The community is deeply grateful for their contributions. - Greg Ubert, Crimson Cup Coffee & Tea
Columbus, Ohio (PRWEB) July 08, 2014
Six Ohio State University students recently traveled to Honduras to learn about coffee cultivation and issues facing small-plot coffee farmers. The service learning trip to the village of El Socorro de la Penita was sponsored by local coffee roaster Crimson Cup Coffee and Tea, which imports El Socorro coffee served on the university campus.
Participating students from Ohio State's Colleges of Agriculture, Engineering, Education, Nursing, and Business included Madison Carroll, Karina Kurzhals, Jacob Mendlovic, Andrea Rollert, Emilie Vandenberg and Matthew Wysong. Led by Zia Ahmed, OSU's senior director of Student Life Dining Services, and Greg Ubert, founder and president of Crimson Cup, the students explored socio-cultural differences, the coffee supply chain, and education and health issues facing small-plot coffee farmers.
"The trip's goal was for students to learn about the coffee production cycle, to develop relationships and to understand socioeconomic issues facing coffee farmers," Ahmed said.
While in Honduras, the students toured coffee farms and a wet mill that processes ripe coffee cherries, learning about smallholder farming systems and their agricultural and environmental practices.
They also met with teachers and students at the community's one-room Jose Cecilio del Valle elementary school, which serves over 70 students. They participated in classroom sessions and engaged students in learning activities.
This is the second year that Crimson Cup has sponsored OSU student visits to El Socorro. Ubert hopes the trips become an annual tradition. "This kind of educational and cultural exchange benefits both the students and the local farmers," Ubert said. "For example, last year's trip inspired the El Socorro community to make improving education for local children a priority."
On this year's trip, students worked with community leaders and Crimson Cup on plans to hire an English-speaking teacher for the school. They also explored a process for setting up scholarships to enable El Socorro students to attend school beyond the sixth grade. And they learned to evaluate coffee that is purchased and served on the OSU campus.
"This year's students brought impressive levels of knowledge and energy to El Socorro," Ubert said. "The community is deeply grateful for their contributions."
Crimson Cup has been working with El Socorro farmers since 2011. It imports their coffee through its Friend2Farmer® direct trade program, which ensures that farmers receive a fair share of the proceeds from coffee sales. It also donates funds for education and community improvements.
About Crimson Cup Coffee & Tea
Since 1991, Crimson Cup Coffee & Tea has hand-roasted specialty coffee in Columbus, Ohio and taught independent business owners how to be successful through its coffee shop franchise alternative program. Sustainably sourced Crimson Cup coffee is available through a network of more than 350 independent coffee houses, grocers, college and universities, restaurants and food service operations across 28 states, as well as the company's own Crimson Cup Coffee House in the Columbus suburb of Clintonville. For more information, visit crimsoncup.com.