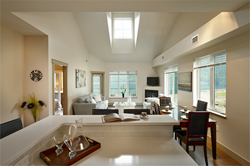 We wanted to create something that brought luxury to such a pristine, rustic setting.
Castlegar, British Columbia (PRWEB) July 09, 2014
With a 230 kilometre lake with trophy size fish such as Sturgeon, Kokanee and Gehard in which to fish, what more could those looking for a lakefront vacation property ask for? How about a fully serviced marina with full service gas bar and 99 slips to keep your boat docked safely? Arrow Waterfront Condominiums offer all of this and more for its residents. Tim Morgan, President and CEO of Enerjet & Air Partners Corp, as well as one of the founding partners of WetJet says "Arrow Lake is a unique location with a fresh water lake that doesn't freeze over; it's the perfect location for the avid fisher person".
There are very few locations left that are easy to access and supply all of the comforts of home and still have very few people around them, maintaining a very private 'cabin' getaway feel. Arrow Waterfront Condominiums is made up of only 57 suites ranging from one bedrooms at 907 sq.ft, starting at $290,000, to 1540 sq.ft 4 bedroom suites with vaulted ceilings in the mid $530,000's.  Nestled in the Monashee Mountains next to a provincial park, these gems are made up of rustic beam and rock detailing and a steep pitched roof, blending the buildings into the mountain side for a very natural look and feel. As a current promotion, the developer is offering new purchasers a boat slip free of charge for one year. These slips can accommodate all types of boats from 12 – 35 feet in length.
Steve Brown, CEO of Gypsum Drywall and another principal in Arrow Waterfront Condominiums, explains the concept behind what they had in mind when building these exclusive residences, "We wanted to create something that brought luxury to such a pristine, rustic setting, but at the same time we wanted to be authentic and respectful of the natural setting". Not only does this location blend incredibly well with the scenic backdrop of the mountains, but you can enjoy all that nature has to offer while sitting on your private deck enjoying the views from your own private hot tub or cozied up by the fireplace looking out at the lake from the large south facing windows.
Whether it's to get away from it all and retreat to the quiet of nature, hit the water to boat, ski or fish, or enjoy all the conveniences that Castlegar has to offer only a short ten minute drive from Arrow Lake, Arrow Waterfront Properties truly has something for everyone. For further information, please visit the Arrow Waterfront Properties Website http://www.arrowwaterfrontproperties.com or contact Lisa Mundell at 403-333-1609 or lisammundell(at)gmail(dot)com