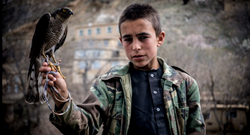 I quickly realized how false the image is that is portrayed through the media.
Sheridan, Oregon (PRWEB) July 08, 2014
Interested in global conflict, graduating Delphian School senior and film maker, Mikai Karl, was looking for a place to showcase his filmmaking skills in a meaningful way. "I wanted to see for myself what was going on out there. I looked at different conflict zones around the globe and decided that as a citizen of the United States, because of our relationship with Afghanistan — and its degree of conflict — that I would hopefully find a story worth telling there."
Though unable to film the actual election, Mikai spent two weeks in the country, interacting, filming and exploring both Kabul and Mazar. "I quickly realized how false the image is that is portrayed through the media. That country in particular: Its people. Its culture, and its general state. While Afghanistan is considered to be one of most inhospitable countries on the planet, I found it to be nothing but hospitable. I also found that while Afghanistan is by no means the safest and most secure country, it is just another country with similar people trying to live peacefully."
Upon his return, his film has since been featured on several prominent video sites. Namely: Infinity List and Awardeo. "Afghanistan" can be viewed at http://vimeo.com/97904523
# # #
Delphian School is Oregon's premiere international day and boarding school. Voted BEST Summer Ever 2013 & Best Summer Camp For Language 2014 by Nw Kids. Delphian School is a member of the Oregon Federation of Independent Schools, an Accredited Member of the Northwest Association of Independent Schools (NWAIS), The Association of Boarding Schools (TABS), the Western Boarding Schools Association (WBSA), and an accredited member school of the Northwest Accreditation Commission (NWAC). Visit
http://www.delphian.org/ for more information.