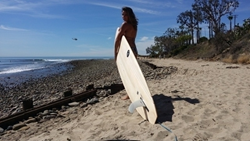 Santa Monica, CA (PRWEB) July 08, 2014
Spinlister, the world leader of peer-to-peer bicycle rentals, announced today that Brazilian big wave surfer Maya Gabeira has joined Spinlister as a professional athlete ambassador to help build their new stand up paddle board (SUP) and surfboard category. Gabeira has won an ESPY award for Best Female Action Sports Athlete and the XXL Big Wave Award four times, from 2007 to 2010.
Spinlister recently opened their platform to standup paddle boards (SUP) and surfboards. Maya, excited about the expansion, was one of the first surfers to list boards. "I believe sharing love for the ocean and the sport of surfing is the best gift we can give others. I am sharing my surfboards on Spinlister to spread the spirit of surfing. By getting surfers to recycle the boards that they may not be using 24/7, we can continue to spread the healthy and beautiful lifestyle of surfing," says Maya Gabeira.
"Maya is known as one of the most courageous surfers who holds her own in the big wave waters, so I'm thrilled to have her on board. To have Maya as one of our first surfboard listers is huge for us and I'm sure people will be excited at the opportunity to rent from such an inspiring surfer," says Spinlister CEO Marcelo Loureiro.
So far Maya has listed two of her boards, one of them being her limited edition Yana longboard. Maya's inviting all surfers to help spread surf culture and make money by listing their boards at http://www.spinlister.com/list. List your boards and use promo code #MAYA to receive a $10 gift credit from Maya for helping to share the spirit of surfing. All boards are insured up to $2,000 against theft or damage.
About Spinlister:
Launched on April 1st, 2012, Spinlister is a peer-to-peer action sports platform that allows users to rent and list bicycles, skis, snowboards, SUPs, and surfboards from each other in over 100 countries worldwide. With their seamless web, iOS, and android apps, built-in security features, and a database of user reviews, Spinlister has won the trust of communities of athletes all over the globe.