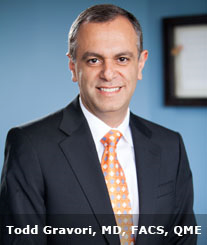 It is important to detect and treat spinal stenosis as early as possible.
Beverly Hills, CA (PRWEB) July 08, 2014
According to a recent article, New York Giants running back David Wilson is seeking medical clearance to play again after an injury left him with spinal stenosis. Wilson suffered the career-threatening injury in 2013, and had surgery to correct it in January 2014. Now, he is waiting for the all-clear in order to resume his position on the team.
"Spinal stenosis can develop due to a number of conditions, including trauma to the spine. Luckily, there are highly effective treatment options," said expert spine surgeon Dr. Todd Gravori. "It remains to be seen if Mr. Wilson will recover enough to play again this season, but spinal stenosis does not have to be a debilitating condition if caught early enough and treated by an expert spine surgeon."
Spinal stenosis is a condition in which the spinal canal is narrowed to the point of putting pressure on the spinal cord or nerve endings. This can lead to chronic back and neck pain, as well as numbness and weakness in the extremities. When left untreated, it can lead to extreme symptoms such as loss of bowel function and even paralysis.
"It is important to detect and treat spinal stenosis as early as possible," said Dr. Gravori. "Conservative treatments such as physical therapy and medication should be tried at first, but if a patient continues to experience chronic pain or other symptoms, surgery may be an option."
Dr. Gravori is a pioneer of the minimally invasive spine surgery approach. Minimally invasive spine surgery has many benefits over standard spine surgery, including less blood loss, less risk of infection, and less downtime. Dr. Gravori is committed to providing the most cutting edge treatments available in order to ensure the comfort and satisfaction of his patients.
"It's very important to me to always act in the best interests of my patients," said Dr. Gravori. "Without knowing the details, I can't comment on what treatment would have been best for Mr. Wilson. However, I can say that spinal stenosis can often be treated using minimally invasive techniques. It's extremely important to have a discussion with a reputed, expert spine doctor in order to determine the best treatment option."
Based in Los Angeles, Todd Gravori, MD, FACS, QME is a board-certified spinal and neurosurgeon specializing in the treatment of back, neck, and spinal conditions via minimally invasive procedures. From each of his five boutique locations, Dr. Gravori offers comprehensive treatment including diagnosis, education, treatment, surgery, and aftercare. Dr. Gravori offers treatment for herniated discs, spinal instability, spinal deformity, spine tumors, brain tumors, meningioma, hematomas, cavernous malformations, and carpel tunnel. Unlike large hospitals, Dr. Gravori's unique outpatient structure offers personalized care in a safe and controlled environment.
To learn more about Dr. Gravori and his high-end outpatient facilities, visit the new website at http://www.ProMedSpine.com.