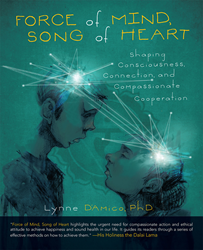 My method shows you how to redirect a negative and polarizing relationship dynamic into a positive and unifying one
ALEXANDRIA, Va. (PRWEB) July 09, 2014
Relationships are built on the dynamic of give and take, but what happens when the take starts to outweigh the give? Dr. Lynne D'Amico explores the struggles found in any type of relationship and reveals a practical approach to solving those problems in her new book "Force of Mind, Song of Heart."
"Force of Mind, Song of Heart" provides valuable information, tools, guidance, and 50 real-life practice scenarios for learning how to better connect with others and create more meaningful, healthy and positive personal relationships.
"Connection," D'Amico insists, "is the basis for every genuinely positive and satisfying relationship experience. If you want to feel happier with a spouse, parent, in-law, or any other person in your life, you have to learn how to create or enhance connection."
Drawing from her own experiences in education and a diverse professional background, D'Amico explores language, communication and perception and how they impact our relationships, values and collective wellness.
"My method shows you how to redirect a negative and polarizing relationship dynamic into a positive and unifying one," D'Amico said. "When you shape your thoughts and interactions and understand the brain's emotional response patterns, you begin to see yourself and others differently, which is a prerequisite for healing relationships."
As endorsed by His Holiness the Dalai Lama, "'Force of Mind, Song of Heart' highlights the urgent need for compassionate action and ethical attitude to achieve happiness and sound health in our life."
For more information, please visit http://www.amazon.com or http://www.knowledgeshaping.com.
"Force of Mind, Song of Heart: Shaping Consciousness, Connection and Compassionate Cooperation"
By: Lynne D'Amico
Paperback: $15.99
E-Book: $9.99
ISBN: 9781452591292
Available at bookstore.balboapress.com, amazon.com and barnesandnoble.com.
About the author
Lynne D'Amico received her Ph.D. from the University of Pennsylvania, and has extensive work experience in educational program development in language, culture, and analytic problem-solving. She is founder and principal of Knowledge-Shaping Solutions, LLC, a metro Washington D.C. business devoted to peacebuilding and collective wellness. D'Amico currently lives in Alexandria, Virginia, where she leads the Prince Street Practicum for Conscious Living.
# # #