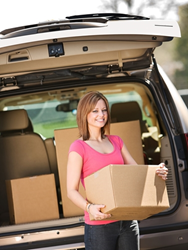 Chicago, IL (PRWEB) July 08, 2014
With home sales on the rise, moving activity is on the rise. The Federal Savings Bank wants to offer a few tips for saving money on moving. After providing a down payment for a low cost mortgage and paying closing costs, looking to minimize the money one spends on their move.
Home sales are on the rise in America. Both new home sales and existing home sales showed surges in May leading The Federal Savings Bank to believe that moving activity is seasonally growing, and will increase further. New home sales grew 18.5% in May while Existing home sales rose 4.93%. With all this new sales activity occurring is important to know how to re-locate.
Not only does relocating come with the stress of boxing, loading, moving and unloading belings, but one can spend a lot of money by the time all their belongings are piled into their new house. Although there are some headaches one can't control, such as late movers or poor weather, one can save money on their moving expenses.
Here are some tips to get everything to a new home while spending less:

Don't buy boxes. Sure, home improvement and moving stores have packing materials for sale. There may even be a discount that comes with the truck rental. However, one does not have have to spend a dime if their know where to look for free boxes. Every day, restaurants, liquor stores, hospitals and other businesses throw away tons of boxes, which tend to be sturdy and safe for their belongings because of the items transported in them. Check with these places or a local recycling center to get free packing materials.
Downsize the load. Do this to save some time in addition to money. Reduce packing time by throwing out or donating items that haven't been used in a while. Raid bedrooms and hall closets to empty out old clothing, appliances and other items. In addition to having less to move, possessions that are donated can be deducted on your taxes.
Don't hire movers. The heavy lifting is one of the less fun parts of moving. Having a few helping hands is a must, but that doesn't mean one needs to spend a lot for professional movers. Unless dealing with particularly fragile or cumbersome items, call up friends and family members to assist. To ensure everything goes smoothly, give each person a specific task and thank the helpers with some refreshments once everything is unloaded.
File tax deductions. Besides the tax benefits of donating belongings, one can get a deduction for your moving expenses. If their move is for work-related reasons and meets certain IRS time and distance requirements, individuals can get some of their money back. Keep all receipts for accurate reporting at tax time.
Borrow transportation. This is another place where friends and family come in handy. Instead of spending money for a rental truck, see if someone will loan out an SUV or pickup truck for the day. One may have to take multiple trips, but the savings can be worth the extra time.
Book ahead for movers and trucks. Summer is a time when many people are moving. If they are going to spend money for professional services and transportation, plan ahead. Prices can go up and availability can be tight
For more information about how a low rate mortgage can further offset your home buying and moving expenses, contact the Federal Savings Bank, a veteran owned bank.