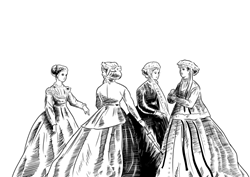 (PRWEB) July 08, 2014
The Danish Home of Chicago is pleased to introduce its new blog, The Hope Chest. This entertaining and whimsical tale was created to honor the legacy that the 12 founding women of The Danish Home made culturally and historically, as well as within the long term care system. The unique blog is a celebration of Scandinavian contributions to American culture (and vice versa) and a way to cultivate and preserve The Danish Home's 124 year-old history, while also communicating its current mission.
The Hope Chest weaves historical and fictional past and current day events into a rich tale spanning from the mid-1800's to today. The characters are based on the actual group of 12 determined Danish women who organized a society for elderly Danes in 1891.
The story begins as our narrator, upon purchasing an old chest she discovers to be brimming with letters, photos, and personal effects belonging to its original owner, begins to learn about the nature of her interesting life long ago. She becomes intrigued by the discovery that this was one of the founding women of The Danish Society for Old People, which would eventually become The Danish Home of Chicago. She embarks on a journey to find out more about this group of amazing women and their significant contribution to history. Along the way she contemplates the similarities and differences between the two eras – past and present - inspired by frequent trips to visit her grandmother, whom she lovingly calls Mormor and who is coincidentally a resident of The Danish Home.
You are invited to come along on this journey with us by following the weekly posts and interacting with us. By showing your support you are helping to preserve a rich belief of caring for our elders and continuing our wonderful heritage.
Visit http://www.DanishHomeOfChicago.org/the-hope-chest.
The Danish Home of Chicago is a boutique continuing care community nestled in a quiet neighborhood in Chicago. Founded in 1891, The Danish Home offers a secure, caring environment for its residents. For additional information visit http://www.DanishHomeOfChicago.org or call 773-775-7383.