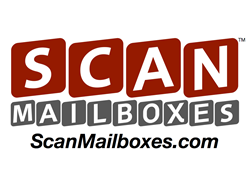 mail service to deposit their enveloped checks
Austin, TX (PRWEB) July 08, 2014
After attending the Governor's Small Business Forum with the Austin Chamber of Commerce, Ken Brown III and Chris D. Landry, Co-Founders of Scan Mailboxes realized a business need and responded to it. They are pleased to announce that a new option, for customers to request their checks to be deposited, is now available.
Customers and Businesses can now use Scan Mailboxes' mail service to deposit their enveloped checks, thereby saving the customers the hassle of making requests to pick up or forward them. Scan Mailboxes understands that "time is money," and now business owners can eliminate the need for hiring a mail clerk or someone to process checks.
In the last two months, Scan Mailboxes has been able to provide top-notch service using the latest technology for customers to receive their mail online. The Temporary Mail Service was also born to benefit those who are taking short-term leave from their primary homes, but would like to continue receiving mail electronically without changing their permanent addresses.
When customers' mail and packages arrive directly at Scan Mailboxes' facility, customers get notified of scanned images of front envelopes/packages on the same day. From that point, customers are only a click away from full control of personal options via an user-friendly website from a computer or any mobile device to request to: open and scan the contents, forward the physical mail to any designated address, deposit checks, shred and recycle contents, or keep them in storage. Customers in the Austin area can even stop by to pick up their mail and packages at no additional charge.
In addition to the above services, anyone can request document imaging and photo scanning services as Scan Mailboxes can scan 7,000 documents per hour. Scan Mailboxes serves as a Registered Agent for all Texas companies filed with Texas Secretary of State for $50 per year, per company. Notary Public service is free for those subscribed.
Anyone can sign up at http://www.scanmailboxes.com to get their individually assigned Postal Mailbox number to start using the digital technology provided by this smart service. Save gas and time while reducing carbon footprints. Join Scan Mailboxes in alignment with Austin's efforts on being environmentally conscious.