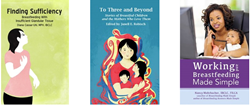 Praeclarus Press launches new books that address the needs of breastfeeding mothers.
Amarillo, Texas (PRWEB) July 15, 2014
Praeclarus Press adds to its growing collection of breastfeeding books with three new titles this month, Finding Sufficiency, To Three and Beyond and Working and Breastfeeding Made Simple. Each book offers a new take on subjects that are not often discussed or are under-researched. Always hoping to create awareness and provide support, these newest books will be welcome additions to the libraries of mothers, providers, and all who support women in their breastfeeding journeys.
Finding Sufficiency explores the condition known as hypoplasia, or Insufficient Glandular Tissue (IGT). Women who are affected by IGT often are unaware until they experience an inability to produce enough milk to feed their babies. This experience can be devastating, very difficult to process and often requires the insight of a healthcare professional to help the mother understand and cope. To Three and Beyond, is an intimate look at mothers who have nursed their babies into young children and what it means to be the mother of a breastfed pre-school and/or school-aged child. The stories, written by the mothers themselves offer a glimpse at this practice which will surprise some, but seem normal to others. Working and Breastfeeding Made Simple addresses the very important topic of how women who work can continue to breastfeed their babies in spite of necessary and regular separation. Women are essential to today's workforce, and this book offers valuable information to help them meet their breastfeeding goals.
Please visit the Praeclarus Press website learn more about the authors of our latest books: Diana Cassar-Uhl (Finding Sufficiency), Janell E. Robisch (To Three and Beyond), and Nancy Mohrbacher (Working and Breastfeeding Made Simple).
Praeclarus Press is a small press founded by Kathleen Kendall-Tackett, Ph.D., IBCLC, FAPA and specializes in women's health. It features books, webinars, and products that support women's health throughout their lifespan. Based in Amarillo, Texas, the mission of Praeclarus Press is to produce materials that change women's lives.