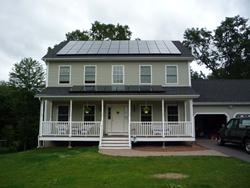 Brookfield, CT (PRWEB) July 09, 2014
Solarize Brookfield is hosting a Solar Open House on Saturday, July 26th to allow residents to talk to a solar homeowner, ask questions, see solar in action, and meet the town's official Solarize installer, Ross Solar Group. The event is taking place at the home of Al Kaimer and Carol Bircher at 1 Powder Horn Hill Road in Brookfield from 11:00 AM -1:00 PM. Refreshments will be served, compliments of Ross Solar Group.
Solarize Brookfield is a unique solar discount program that makes going solar easy and affordable. It leverages group discounts through a pre-selected installer to reduce the cost of solar; it relies on the community to provide outreach and education to create awareness and build interest, and it promotes a clear end date that motivates residents to act. Town officials interviewed several installers and formally selected Ross Solar Group to be part of Solarize Brookfield program and do all of Brookfield's solar installations.
Residents who are interested in learning more about Solarize Brookfield are urged to stop by the Open House. In order to participate in the discounts offered through the program, residents must sign a contract by Tues, Sept 30, 2014.
More information about Solarize Brookfield can be found by visiting http://www.solarizect.com/brookfield or contact the Ross Solar Group at (203) 512-4500.