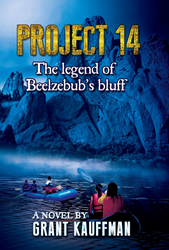 Project 14 has all of the elements necessary to be a big hit.
San Clemente, CA (PRWEB) July 09, 2014
The Osmond family's California-based publishing company, Sourced Media Books, announces the release of Project 14: The Legend of Beelzebub's Bluff, the first in a multi-book young adult adventure series. Project 14, which will be available on July 22, is a thrill ride that centers around five young people who, while on a family camping trip in the heart of the Texas River Country, get trapped in a cave system deep below the earth's surface where they discover an extraordinary secret. Penned by Grant Kauffman, who recently signed with Sourced Media Books, Project 14, according to Amy Osmond Cook, is certain to resonate with all fans of the YA adventure genre, both the young and the young-at-heart.
"Project 14 has all of the elements necessary to be a big hit," Osmond Cook said. "We are excited about its prospects and look forward to seeing it perform in the marketplace. I have already received great feedback on the book from our editors and readers alike and feel that this book will strike a chord with not only the typical YA audience but also fans of adventure fiction."
Kauffman, who is preparing to launch a media company called 12 Rounds Media, says the Project 14 series is just the beginning of what he sees as a quest to provide exciting age-appropriate entertainment options for younger audiences.
"This is step one in our efforts to provide middle grade and young adult audiences with high quality entertainment options that spark the imaginations of young readers. Fostering creativity and getting kids interested in reading again is a worthwhile endeavor, and I feel that Project 14 is a great place to start with exciting plot twists and turns and compelling young characters in a strange and pretty creepy setting."
Project 14: The Legend of Beelzebub's Bluff will be available July 22 in paperback and ebook formats.
For more information regarding Project 14: The Legend of Beelzebub's Bluff or Grant Kauffman, contact:
Amy Osmond Cook
Sourced Media Books, LLC San Clemente, CA
amy(at)sourcedmediabooks(dot)com
(949) 813-0182
https://www.facebook.com/Project14
https://www.facebook.com/grant.kauffman.5
https://twitter.com/GrantKauffman