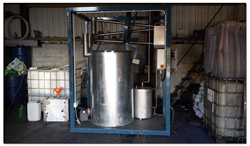 Our technology goes way beyond our client's expectations, and then some.
Bangkok (PRWEB) July 09, 2014
"The well-known idiom, 'a marriage (or) match made in heaven' (meaning a perfect combination of either two people or things), "could not be more appropriate," say the Ireland based creators and manufacturers of the Plastic 2 Fuels Technology, whom, as of July 14, 2014 will begin accepting orders world-wide. The developers are adamant that their machines are the "perfect match" for processing waste plastics into quality fuels with minimal effort, expense and labor. They further state that "The Plastic 2 Fuels Technology goes way beyond buyers expectations, and that ongoing developments for future machine releases are just as exciting."
Utilizing the method of Catalytic Depolymerization (i.e., using a catalyst) as part of the process to convert waste plastics to fuels, it's literally a 3-push button process, and the quality of the oil is nothing short of stunning. The technology is currently released in two versions, Batch and Fully Continuous. The Alaskan Agent for Plastic 2 Fuels, (P2F) James Moriarty says that the Fully Continuous is what the majority of the market wants. "The Batch is a great system for small users producing 500 – 600 litres of fuel per day, but for larger users like recyclers, councils, certain industrial manufacturers, etc., they require larger output. The Fully Continuous can run approximately 21 days non-stop, processing (on the low side) of 2 - 3 tonnes of waste plastics per day, with just a 6-8 hour break in between for cleaning and removal of valuable waxes."
But it gets better. Because all the components are housed in a sturdy steel frame, locating it in virtually any environment is a simple task. For power, it uses the fuel it produces, hence eliminating expensive power bills. And more good news is the R.O.I. (Return on Investment). The Fully Continuous could see one having their initial outlay back within 90 Days, which leaves the remaining 9 months in a full year (and each year thereafter) producing brilliant profits. Consequently, there's no doubt that installing 1 or 100 machines is certainly financially viable.
Emissions are also taken care of. The technology incorporates 'scrubbers' to remove carbon monoxide and carbon dioxide. The other excess gasses being Propane, Butane, and Methane are currently flared off, but these can be captured and utilized as an additional fuel source. Adapting the Plastic 2 Fuel machines for Fractional Distillation is also one of the 'in-process' developments which will allow the production of many types of fuels, and is a stand-alone technology that totally compliments existing machines.
With waste plastics in absolute abundance globally and a proven hindrance to the environment, the manufacturers acknowledge outright that "we have a mandate to produce P2F technology that works 100%, is profitable, commercially viable, and environmentally sensible. And we do it."
For more information, contact the P2F Global Distributors.
Eyedeas Company Asia-Pacific Co., Ltd (+66) 89 7800 215
Web Site & Video: http://www.plastic2fuels.com