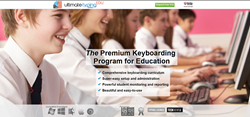 This is a new sort of fast typing program that schools will be pleased to incorporate into their classrooms...
New York City, NY (PRWEB) July 10, 2014
Today, setting up a program to teach keyboarding is an easy task that's budget-friendly for schools of all sizes worldwide, thanks to Ultimate Typing™ EDU. This cloud-based program allows schools to subscribe to one of the many cost-effective packages offered by eReflect and Ultimate Typing™ EDU, all of which provide students with an important skill that will benefit them both immediately and in the long run.
Ultimate Typing™ EDU has been designed by experts. It not only builds students' typing accuracy and speed through various activities and games, but it also offers unique extra benefits to teachers and school administrators who choose this typing program.
Keyboarding school classes are linked to 24/7 support for teachers and administrators to ensure any issue can be solved in a matter of minutes, and that typing practice takes place smoothly and without any interruption of valuable class time.
What's more, eReflect offers unlimited upgrades for the typing program that are free of charge and are included in each subscription package. These seamless program updates achieve two things: first, they ensure the program runs well without glitches and compatibility issues; and second, each subscribed school can be confident they have the latest technology and features to work with.
Apart from 24/7 user support and unlimited, free upgrades, schools also get concierge service. What this means is that each school gets their own service representative at eReflect, who will work closely with the school's IT staff to set up the program and prepare students for their transition to a cloud-based learning experience of keyboarding.
Because Ultimate Typing™ EDU is a cloud-based software, students can log in and practice their typing exercises and games any time and from anywhere they are. The program doesn't limit them to classroom practice or even on-campus after-school activities. If students want to take the initiative to further hone their typing skills, they can practice at home.
Ultimate Typing™ EDU offers students the opportunity to improve their typing skills, which will allow them to save time and become more efficient computer users. This is a new sort of fast typing program that schools will be pleased to incorporate into their classrooms, because it is enriched with many coveted features and technologies to optimize the learning outcome for their students.
*********
For more details on Ultimate Typing™ EDU, please visit http://www.ultimatetyping.com/schools.
About Ultimate Typing™
Ultimate Typing™ software is designed specifically for the improvement of typing skills. Created by eReflect, a world leader in e-learning and self-development software, Ultimate Typing™ has been informed by the latest developments in the science of touch typing.
Since its creation in 2006 by Marc Slater, the company has already catered to over 112 countries all over the world, offering products with the latest cutting-edge technology, some of which are among the world's most recognized and awarded in the industry.