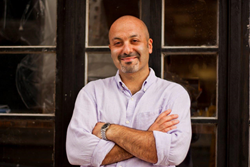 New York, NY (PRWEB) July 14, 2014
When author Boris Fishman stumbled in to the restaurant Moscow 57 on Delancey Street on New York's Lower East Side, he liked the vibe so much, he asked owner Ellen Kaye if he could hold the launch party for his new book, A Replacement Life, at the restaurant. They both knew it was a perfect fit. The party, for 50 invited guests, was held on June 4th, the day after the book's June 3, 2014 release.
They are now collaborating on an upcoming evening, Wednesday, July 23rd, with Boris giving a reading, Moscow 57 providing Russian music that speaks to the heart of his story and zakuski (Russian tapas) to set the Russian-American soul free. And they will raise a toast of sour cherry vodka to celebrate Boris's next novel, DON'T LET MY BABY DO RODEO, just being sold to Harper for publication in fall 2015. This new novel tells the story of a passionate, restless 42-year old woman's journey of self-discovery that takes her -- with husband and young adopted son in tow -- from a suburban New Jersey town to the mountains of Montana, whose wide-open spaces unleash her own dormant dreams and urges with seismic consequences for everyone.
ABOUT BORIS FISHMAN
Boris Fishman was born in the former Soviet Union and immigrated to the United States at the age of nine. His journalism, essays, and criticism have appeared in The New Yorker, The New York Times Magazine, The New Republic, The Wall Street Journal, The London Review of Books, and other publications. He is the editor of WILD EAST: STORIES FROM THE LAST FRONTIER, an anthology about Eastern Europe after the fall of communism, and the recipient of fellowships from the New York Foundation for the Arts and the Fine Arts Work Center, among others. He lives in New York City. A REPLACEMENT LIFE is his first novel.
Forging an American identity out of the immigrant experience and confronting the transgressions of the past are interlocking themes in A REPLACEMENT LIFE (Harper, 336 Pages/$25.99 Hardcover), the debut novel from Boris Fishman that was just named a Summer 2014 Barnes & Noble Discover New Writers Selection. Fishman, who has written for The New Yorker, New York Times Magazine, New Republic, and Wall Street Journal,turns to fiction with a cleverly-crafted story-at once provocative, compassionate and humorous-about a frustrated fledgling writer who invents false Holocaust restitution claims for the aging Russian Jews of Brooklyn as an act of cultural loyalty, familial expiation, and creative expression.
ABOUT A REPLACEMENT LIFE
Slava Gelman left Belarus for America as a child, but the part of Brooklyn where his family lives - "the whole accursed neighborhood of Russians, Belarusians, Ukrainians, Moldovans, Georgians, and Uzbeks" - doesn't look very different from the Soviet Union. At twenty-five, Slava wants away from all this. But his bid to reinvent himself as a proper American - a writing gig at legendary Century magazine in midtown Manhattan - isn't quite panning out. (He can't make it out of Research.) Only Arianna Bock, the fact-checker in the neighboring cubicle, seems to notice that Slava wants to do anything else.
When the grandmother who all but raised him dies, Slava is forced to return to the Brooklyn he has tried so desperately to leave behind. There, his grandfather Yevgeny, an unrepentant wheeler-dealer past eighty, has a dubious proposition for his grandson ("You're a writer, aren't you?"): Would Slava write up a story of Holocaust suffering to claim restitution funds from the German government? There's one problem: Yevgeny never came within a thousand miles of a Nazi, having finagled his way eastward and lived out the war in relative safety. It was Slava's grandmother who lived through the deprivations and horrors of the Minsk ghetto. But Slava's grandmother is dead, never to file a claim for her small piece of justice, so Yevgeny sees no reason why he shouldn't lay claim to his wife's story and get the money owed the family. As a Jew in the Soviet Union and a refugee to America, hasn't he suffered, too?
Slava protests: The person he wants to become is supposed to have left all that immigrant desperation behind. But the opportunity to recreate on the page the grandmother he abandoned, not to mention to feel like a writer in demand for a change, is too great to resist. As Slava translates his grandmother's experiences into a claim for his grandfather, he begins to understand the deceased woman he loved so dearly better than he had in real life. He also feels the thrill of the fabulist. So when Yevgeny breaks his promise to keep quiet and advertises his grandson's services to the neighborhood, Slava ambivalently gives in. As he gets more deeply enmeshed in the scam, Slava begins to reconnect to his culture and its past in unexpected ways, though his budding romance with Arianna is complicated by some inter-family matchmaking. But when Slava is suddenly threatened with exposure to the fund program, he must make difficult choices for himself, his family, and his people.
"A REPLACEMENT LIFE is a memorable debut by a wonderfully gifted young writer," says Joyce Carol Oates. "Boris Fishman has written a beautifully nuanced, tender, and often very funny novel about conscience and familial loyalty that will linger long in the memory."
Walter Kirn adds: " A REPLACEMENT LIFE is that rare thing: a novel that asks the big questions, embedded in a page-turner haunted by characters that walk off the page." Jim Harrison says: "With heart and guts and a deep empathy for its characters, this novel serves up a painful remainder that the past is never really past. Boris Fishman is a stunning writer, and A REPLACEMENT LIFE deserves a wide audience."
For more information about Boris and A REPLACEMENT LIFE please go to
http://borisfishman.com/
ABOUT MOSCOW 57
Moscow 57 on Delancey is a Russian Central Asian boite from a New Yorker's perspective, with live music nightly. Owner Ellen Kaye's parents, Faith Stewart-Gordon and Sidney Kaye, owned the Russian Tea Room from 1947 to 1996. "The Lower East Side takes us back to where my grandfather Jacob Kalmanowitz started out as a butcher before going on to become a Midtown restaurateur in the early 1900s," Ms. Kaye said.
Moscow 57, the hospitality and entertainment company, was launched several years ago by partners Ellen Kaye, Seth Goldman and Ethan Fein. For the past two years, the company has been hosting its M57 Urban Salons, evenings of music, food and digital visual art displays, in Harlem; Washington Heights; Chelsea; the Upper East Side; the East Village; Governors Island; New Milford, Connecticut; and New Orleans. Moscow 57 has made New Orleans a home away from home, with regular forays into that city's world-renowned culture of Southern hospitality, regional cuisine, and world-class entertainment.
After performing at and co-producing events with New York's Corcho Wine Room, as well as celebrating Latin American culture in New Orleans, this cosmopolitan attitude is being brought to Moscow 57's permanent home on New York City's Lower East Side every night.
Moscow 57 Entertaining, created in partnership with Ethan Fein, is developing projects for film, television and theater. Its music company produces podcasts, live performances, recordings and videos. Moscow 57's first CD releases have already garnered national radio airplay, and the company's videos can be seen on the Moscow57Entertaining YouTube channel. The company's M57 podcast will be streaming live on Sunday nights.