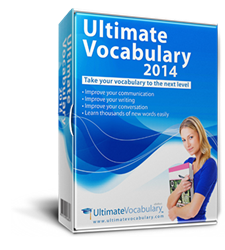 Highlighting the fact that the word database was designed after evaluating and extracting the most widely used and important words in the English language.
New York City, NY (PRWEB) July 11, 2014
Ultimate Vocabulary™ has received a review by Word-Buff, the language expert behind the website of the same name that provides a great resource for vocabulary and spelling tips. Software like Ultimate Vocabulary™ also offers a vocabulary building solution for people preparing for an exam or for people in need of an instant but substantial enrichment of their lexicon. While other methods exists, Ultimate Vocabulary™ is a foolproof way to achieve this, as review by Word-Buff concludes.
According to Word-Buff, a high quality vocabulary builder needs to offer plenty of word lists and words to learn. Ultimate Vocabulary offers such, thanks to its built-in dictionary-sized word database, effectively allowing users to learn many more words than they ever thought. Highlighting the fact that the word database was designed after evaluating and extracting the most widely used and important words in the English language, Word-Buff highlights the quality of the program's resources.
The reviewer also mentions that the vocabulary software provides in-depth vocabulary improvement. Not only does the user get to master a word's definition and spelling, they can also learn a great deal of other information, including pronunciation, synonyms, and antonyms. The program also provides usage examples so they the user can accurately use their new words in conversation and in written communication.
The software review also focuses on the ability users have to create or add words to custom lists for further review. This allows advanced users to accelerate their vocabulary improvement program and make it more challenging.
The reviewer also mentions some drawbacks he thinks Ultimate Vocabulary could improve upon. He suggests some interface tweaks to make the program more intuitive and interactive for the user. He also recommends that it would be more sensible if several word list functions were gathered under a single tab, rather than dispersed under various menu tabs. Having a word pattern search capacity would also be a feature that Word-Buff thinks would be nice to have in the next version.
The reviewer at the Word-Buff site concludes that Ultimate Vocabulary™ is a sophisticated program that helps people increase vocabulary knowledge with little effort, in a fun and interactive way.
***********
For more information on how you can benefit from Ultimate Vocabulary, please visit its official website, http://www.ultimatevocabulary.com.
About Ultimate Vocabulary™
Ultimate Vocabulary provides a proven and powerful platform, built to improve anyone's vocabulary.
The interactive self-improvement system provides more learning tools than any other program on the market, as well as more information on words.
The Ultimate Vocabulary software provides each and every user with a personal computer tutor. Providing a step-by-step guide to learning a powerful vocabulary, Ultimate Vocabulary is the learning tool everyone can benefit from.
Of course, the software is also backed by eReflect's iron-clad money back guarantee.