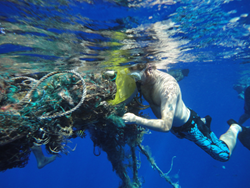 The voyage will allow us to evaluate long-term trends and changes in the Gyre
Long Beach, CA (PRWEB) July 08, 2014
Algalita, the Long Beach Marine Research and Education organization, in partnership with Cabrillo Marine Aquarium, will bring from the middle of the North Pacific Central Gyre to the mainland an interactive broadcast focused on the latest issues regarding plastic pollution in the world's oceans.
Slated for noon (PDT), Sunday, July 20, 2014, in Cabrillo's auditorium, the program will enable participants to communicate with researchers at sea, experience how scientific investigation is conducted in the field, and learn what discoveries are being made more than 1,000 miles from any landmass.
"This six-week voyage commemorates 15 years of Captain Charles Moore's investigating the impact of plastic pollution in the marine environment and will allow us to compare existing data from our previous explorations with new information to evaluate long-term trends and changes in the Gyre," said Algalita Executive Director Marieta Francis. "It will increase our knowledge of how the marine environment has been impacted, how the toxins associated with plastic are transferred to marine life, and what the ultimate consequences for human health might be."
On hand to discuss the ramifications of marine plastic pollution and what we, as individuals, can do to eradicate it will be a panel of experts, including: Dr. Kevin Kelley, professor of endocrinology, California State University, Long Beach; Shelley Backlar, director of education programs, Friends of the Los Angeles River; and Beth Terry, author and environmentalist. Dr. Marcus Eriksen, executive director and co-founder of 5 Gyres Institute, will moderate.
Captain Moore, together with his crew of experienced researchers, embarked from Long Beach June 29 on Algalita's eighth expedition to the North Pacific Central Gyre. Since 1999, Algalita has produced the longest running data for the study region and also has participated in similar expeditions in the North and South Atlantic, South Pacific, Indian Ocean Gyres and in Antarctic waters. Algalita has collected and analyzed plastic debris samples from all five oceans and was the first research organization to develop standard methodology for sampling and analyzing micro-plastic debris in the ocean.
The program at Cabrillo Marine Aquarium is free but space is limited and reservations are required. For reservations, please contact jeanne(at)algalita(dot)org or call 562-598-4889. Additional information can be found at:
http://www.algalita.org/2014NorthPacificGyreExpedition.html - EVENT
About Algalita Marine Research & Education:
Algalita Marine Research and Education is a nonprofit organization committed to solving the plastic pollution crisis in our oceans. In 1997, our founder, Captain Charles Moore discovered an area of plastic debris in the North Pacific Ocean known by many as the 'Great Pacific Garbage Patch.' Since then, the Long Beach, CA-based organization has been studying the devastating impact of plastic on our oceans and educating the public. The organization reaches thousands of students worldwide every year. For more information, please visit http://www.algalita.org.
About Cabrillo Marine Aquarium:
With its spectacular natural setting adjacent to Cabrillo Beach Coastal Park and the Port of Los Angeles, Cabrillo Marine Aquarium is uniquely suited to its leadership role in marine science education, aquaculture research and community recreation. The historic Frank Gehry-designed aquarium displays the largest collection of Southern California marine life in the world. Since 1935, CMA has provided visitors with both a natural and interactive approach to learning about the marine environment of Southern California.